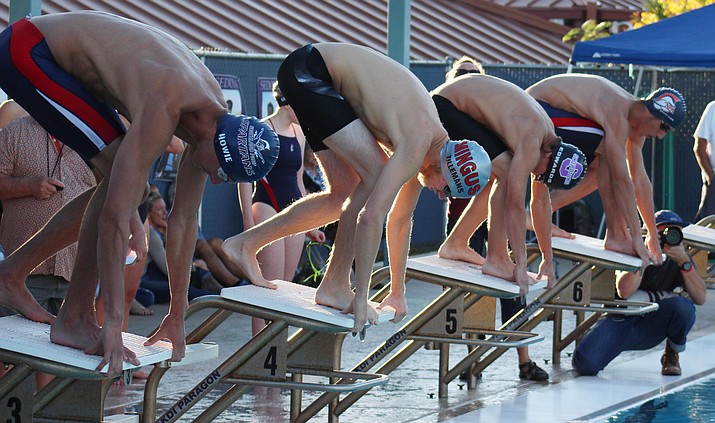 Originally Published: November 2, 2017 1:55 p.m.
The Mingus Union swimming and diving teams may be small, but they are sending a large contingent to State.
Boys swimming state qualifying seeds
Medley relay: 7th
200 Free: Dallin Gordon, 14th; Joseph Calhoon, 23rd
50 Free: Gunner Tillemans, 8th
100 Fly: Fletch Fangman, 6th
100 Free: Tillemans, 3rd
500 Free: Gordon, 12th; Calhoon, 16th
200 Free relay: 4th
100 Back: Andrew Peterson, 19th
100 Breast: Fangman, 11th
400 Free relay: 4th
The Marauders had 16 swimmers qualify for the Division III Arizona State Swimming & Diving Championships this weekend.
"We were sitting in good positions all year but it comes down to the end," said Mingus head coach Gretchen Wesbrock. "It's exactly what we hoped for."
The meet starts on Friday at 3:30 p.m. with the preliminaries at the Phoenix Country Day School - Dady Aquatic Center in Paradise Valley. Then the finals are Saturday at 2 p.m., also at PCDS.
Last week Mingus Union concluded the regular season with the last of four qualifiers: the San Tan Shadows Invitational at Chandler.
"Great, great last qualifier, probably our longest qualifier," Wesbrock said. "It was a long meet. It started at 8 in the morning and concluded at 4 in the afternoon. We had time drops all over the place, which is awesome."
On the boys side, senior Gunner Tillemans qualified in the eighth position in the 50 freestyle and third in the 100 Free. Junior Fletch Fangman comes in as the sixth see in the 100 butterfly and 11th in the 100 breastroke.
All six relay teams qualified, with the girls' medley relay coming in at 10th, the 200 Free relay eighth and the 400 Free relay ninth. For the boys, the medley relay is the seven seed, the 200 Free relay fourth and the 400 Free relay fourth.
"What's exciting about that relay is that they swam that for the first time at this qualifier and were about 2.5 seconds from a 16 year school record," Wesbrock said. "No matter how things end up, if we can beat a school record that's been on the books that long, that'll be exciting."
Wesbrock said qualifying all the relay teams is exciting because it gives more swimmers the chance to compete.
"We qualified all six relays, which is crazy, that's the most you can do," Wesbrock said. "That's pretty tremendous, we've never done that before."
Girls swimming state qualifying seeds
Medley relay: 10th
200 IM: Emma Warner, 12th
50 Free: Rylie Burke, 10th; Zoey Arwine, 16th
100 Fly: Arwine, 11th
100 Free: Burke, 10th
200 Free relay: 8th
100 Breast: Warner, 14th
400 Free relay: 9th
Wesbrock said a lot of the success comes from their strong coaching staff: Assistant Coach John Wesbrock, Team Manager J.R. Pooler, Stroke Coach Dick Moody and Volunteer Coach Byron Gibbs.
"We've had incredible coaches," Wesbrock said. "I don't treat it like I'm the head coach."