Originally Published: November 4, 2017 3:29 p.m.
SCOTTSDALE — No. 2 seed Saguaro was too much for Mingus Union football as the Sabercats cruised to a win the first round of the state tournament.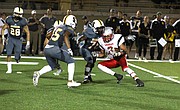 Saguaro (9-2) scored 31 points in the second quarter to end the Marauders' (5-6) season with a 45-13 victory.
Mingus Union head coach Bob Young said the Marauders were just overmatched against the winners of four straight state championships.
"(laughs) Well they whipped our tail," Young said. "There's a reason they're four-time state champs. I mean they just tore us up on the line of scrimmage. That was our big fear, that if we couldn't deal with especially their defensive line, we just had trouble blocking their defensive line."
The victory extends Saguaro's winning streak against Arizona teams to 32 games. The Sabercats have won 10 state titles and nine this century.
After lead only 7-0 after one quarter, Saguaro took a 38-0 lead into halftime.
"First half was kinda rough, defense, especially D line and linebackers had a really good first half," said Mingus senior Tyler Kelly. "Offensive wise, we just were flat, just didn't get off the ball hard, they were beating us off the ball so there was just nothing we could do. They just beat us."
In the second half the Marauders held the Sabercats to seven points and scoreless in the fourth quarter.
"We played a lot better," Kelly said. "So at least we ended the second half with something good to say. It just sucks, it sucks to get beat that bad on my last game."
Junior Chaz Taylor scored both Mingus Union's touchdowns, 40-yard and 13-yard receptions, both in the fourth quarter.
"It was rough, but we played hard, especially in the second half, it was good to come out and to not give up, especially with the score of the first half," Taylor said. "So it was good that we didn't give up and worked hard."
It was the second game in a row against a top 2 team for Mingus Union. Last week Young was impressed with their offense in their loss to No. 1 Sunrise Mountain.
"I thought our defense did a lot better (Friday) night than last week," Young said. "We had some stops, last week we never stopped them once. Defense, honestly, did a pretty good job for the most part. Our offense, we just kept getting off the field and our defense was on the field the whole night and you have no chance doing that."
Saguaro plays No. 7 Peoria in the quarterfinals. Mingus Union's regular season opponents that made the state tournament went 4-0 in the first round of the playoffs.
There was no upsets in the first round of the 4A playoffs.
Saguaro beat Sunrise Mountain and No. 3 Higley during the regular season.
"On the line of scrimmage they're better than Sunrise and Higley," Young said. "Those teams have really good personnel but their offensive and defensive lines are just that much better."
It was the third straight appearance in the state tournament for the Marauders. The last time they advanced past the first round was 2012.
Taylor said he thought he did alright against Saguaro. He said the back-to-back games against top teams showed them what they need to work on.
Young said they will be in the weight room back to work on Monday.
"These back-to-back good teams was really good for us to see where we stand, what we need to work on and that we also need to get in the weight room to get stronger, because both those teams were bigger than us," Taylor said.
More like this story