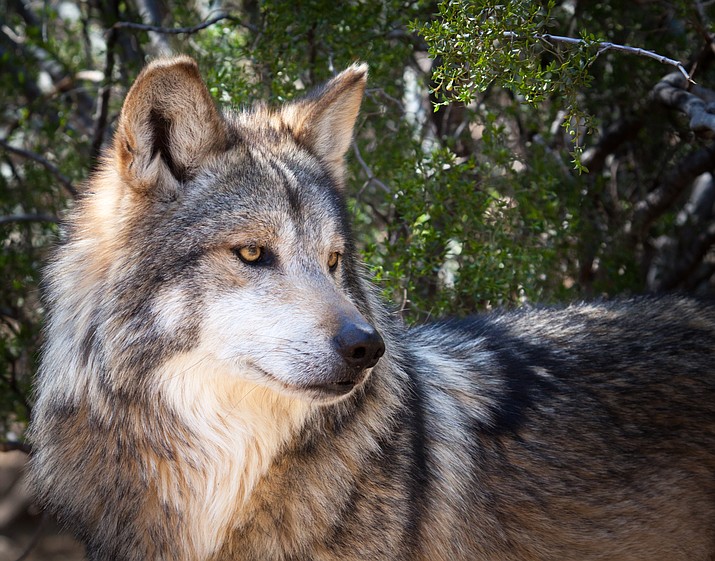 ---
---
SEDONA -- The Plan B Foundation to Save Wolves will sponsor a special two-city tour of the traditional Navajo winter story about leadership and the Wisdom of the Wolf (Mai Tso) told by gifted storyteller and folklorist Sunny Dooley, at The Collective in Sedona on Thursday, November 9, 2017 and at the Museum of Northern Arizona on Friday, November 10, 2017.
Appropriate for all-ages, this Navajo tale shares culturally grounded lessons of leadership and demonstrates that nature is a powerful teacher for humankind. Proceeds from both events will benefit the work of the Grand Canyon Wolf Recovery Project.
Sunny Dooley, a well-known and gifted Navajo storyteller, will tell the story in English, unfolding in rich and entertaining detail how two mammals; two birds and an instigator insect, changed the world by bringing integrity to leadership and a voice to all the people.
Understanding that a well-crafted story can change lives and inspire new ways of thinking was at the foundation of Plan B's desire to be a part of these events. Their goal is to cast a different light on wolves and 're-story' this endangered species that has long suffered in the West, specifically the Mexican Gray Wolf where currently there are only 113 in existence.
Overcoming long-standing views from the historic settlement of the West is also part of the Grand Canyon Wolf Recovery Project's (GCWRP) mission.
According to Director Emily Renn, GCWRP works to build an educated and supportive community to welcome the return of wolves to their historic home range. She says, "We're excited about these storytelling events. It's a natural extension of our work to encourage people to learn about wolves and act on the behalf of wolf recovery."
Tickets are a minimum donation of $10 per person and 100 PERCENT of ticket sales will be donated to GCWRP. Tickets can be purchased in advance online at www.PlanB.Foundation or at the event.
EVENT DETAILS:
Two showings are available for this very exciting event:
• November 9th, 2017 in Sedona
Vista Hall at The Collective, 7000 AZ-179, Sedona, AZ 86351
Doors open: 5:30 pm. Storytelling begins: 6 pm
Light refreshments served.
The Plan B Ambassador Pack will be on site.
• November 10th, 2017 in Flagstaff
Museum of Northern Arizona, Branigar Hall, 3101 N Fort Valley Rd, Flagstaff, AZ 86001
Doors open: 6:30 pm. Storytelling begins: 7 pm
• Ticket Price: $10 minimum donation Tickets are available online at https://www.planb.foundation/ or at the door on night of each event.
• For more information: Contact, Betsy Klein, b@planb.foundation, 714.478.0353. http://www.gcwolfrecovery.org