Originally Published: November 9, 2017 2:48 p.m.
Personal and school records fell, a championship was won and both teams finished in the top 10 for Mingus Union swimming and diving at the state meet.
The Marauder boys took fourth and the girls 10th at the AIA Division III state championship meet on Saturday at the Phoenix Country Day School Dady Aquatic Center in Paradise Valley.
"It was a pretty emotional meet," said Mingus head coach Gretchen Wesbrock. "All around, everyone did an exceptional job. Tons and tons of PRs, we broke five school records on the boys side and then boys taking the championship in the 4 x 50 freestyle was a pretty big feat. That's a quick race, it's a volatile race it can come down to just one person doing something and it just came together and I'm so happy for them."
The Mingus Union boys took fourth out of 35 teams, behind only state champions Seton Catholic, Phoenix Country Day and Saguaro.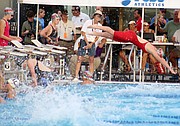 "That's pretty outstanding," said Mingus senior Gunner Tillemans. "Everyone's put in all the effort and to finish fourth is an honor."
The 200 freestyle relay team of Dallin Gordon, Tillemans, Fletch Fangman and Andrew Peterson won the state championship with a time of 1:32.60, a new school record.
"It was great to come back this year," Gordon said. "We had really high expectations for that relay team and I didn't think we'd actually win. We were just trying to podium but we ended up taking first, so that was really great."
Tillemans swam the anchor leg and was able to make up a more than a body length deficit in the final 50 yards.
"At 50 even like a body length is such a big difference and so being able to come back from a body length and a half was really exciting," Tillemans said.
The Marauders came into the finals with a target on their back.
"Oh my gosh, I think I was hyperventilating I was so excited," Wesbrock said. "That was unreal. Going in seeded first is a tough position to be in because everybody's after you, so it's almost better to not go in seeded first. For them to go in and come out with a win, that's huge for Mingus, it's a great accomplishment for those boys."
Gordon, Tillemans, Fangman and Peterson also swam the finals of the 400 Free relay, with a time of 3:27.56, which broke an 11 year school record and earned them fourth.
"It was probably our best meet," Tillemans said. "In prelims we did awesome, we broke five school records, some of which that were 12 years old. It was a really nice meet, we were all relaxed, knew what needed to be done and we got it done, so prelims went amazing. Finals we were all ready and set and hiccups happened but we did really good. We placed first in the 4 x 50, which is one of the fastest races out there in relays and we got fourth in the 4 x 100 It was a really good meet."
In the 100 Fly, Fangman took eighth and set a school and personal record and he took ninth in the 100 Breast, setting a PR.
Gordon finished 12th in both the 200 freestyle (PR) and 500 freestyle (PR).
Also the boys 200 medley relay team of Peterson, Joseph Calhoon, Luke Ritter and Casner Wessel Dudley took 14th.
"I think it went good," said Gordon, who got a personal record in everyone of his races. "I think everyone put in their best and the best showed."
Individually Tillemans took second in the 50 Free in :22.05, setting a PR and school record and third in the 100 Free, also setting personal and school records.
Tillemans said he was really happy with the 50 Free and though he didn't know what happened in the 100 Free, he was still excited.
"I'm still happy with the race," Tillemans said. "This is the fastest in the state and I'm proud to be up there with them."
For the girls, Mingus Union finished 10th out of 31 teams at the meet. Sabino won the title.
"On the girls side, just an awesome showing, tenth in the state with a small group of girls competing, it's pretty phenomenal," Wesbrock said.
The 200 medley relay team (Charlie Green, Tiana Lodico, Emma Mohr and Emily Grasso) took 15th.
Emma Warner was 11th in the 200 IM, setting a personal record. She was also 11th in the 100 Breast.
Rylie Burke also finished 11th in the 50 freestyle, setting a PR. She was 10th in the 100 Free, also setting a new personal best.
Wesbrock said every single Marauder impressed her.
"They all did their part, there were personal bests all around," Wesbrock said.
Zoey Arwine was 12th in the 100 butterfly and set a PR.
The 200 Free relay team (Grasso, Warner, Burke and Arwine) was 8th and set a PR. Then the 400 freestyle relay team (Grasso, Warner, Burke and Arwine) took fifth with a season best time.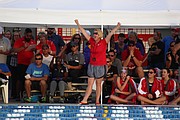 The Mingus swimmers were well supported with arguably the loudest contingent of fans.
"We had tons of parents, tons of family and then lots of community members, so you know church pastors were here, kids from the high school," Wesbrock said. "For a sport that's not highly noticeable or recognizable because they don't get to march around school in their bathing suit on meet days like other teams, it was neat to see everybody come out and I think that said a lot to these swimmers, these athletes, about the hard work that they put in, that it's noticed."