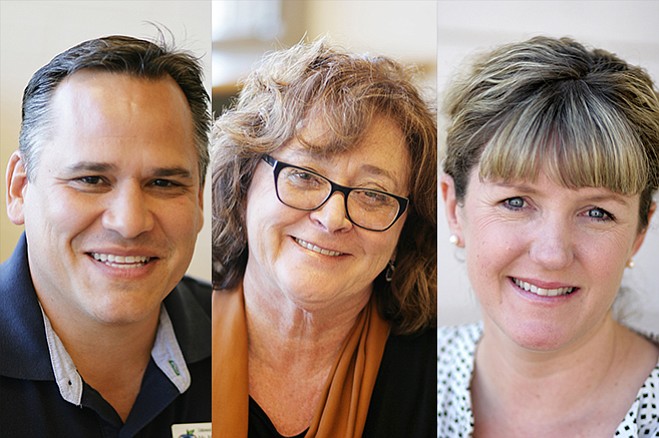 Originally Published: November 9, 2017 12:01 p.m.
COTTONWOOD – Jamie Woodward says she was on "pins and needles" since 7 p.m. over Tuesday's election to continue support of a 10-percent budget override.
Reactions to override vote
Anita Glazar, president, Mingus Union High School District governing board:
"I love this community. I feel lucky, blessed to live here. I'm proud of everybody who worked hard. And I'm happy with the support."
"I'd like to thank everyone who voted and we will make sure that we will be good stewards with the money they have given us."
Jason Finger, president, Cottonwood-Oak Creek School District governing board:
"It's a big relief to have that override pass. I never take these things for granted. The community has always been supportive of the overrides. To me, it's a show of support, and faith in our district. We've always said that this allows us to continue offering what we have offered. It helps keeps class sizes down."
Jamie Woodward, chairperson, Partners in Education
"I'm grateful for the Verde Valley's continued support. Our kids will benefit because of these votes."
Dr. Penny Hargrove managed to one-up the Partners in Education chairperson – by about 12 hours.
"With everything that's gone on this year, there was some self-doubt," says Dr. Hargrove, the superintendent and principal at Mingus Union High School.
The unofficial final election results showed that voters in the Mingus Union and the Cottonwood-Oak Creek school districts supported the override by a roughly 60 percent to 40 percent margin.
Driving to school Tuesday, Dr. Hargrove says she "prayed that God would make sure it would happen."
Then, she passed three vehicles, each she says had the Yes-Yes sticker on their vehicles.
"That's all I needed," Dr. Hargrove said.
While staff and board members of the Mingus Union school district were frantically hitting refresh on their computers' browsers, the folks at Cottonwood-Oak Creek were otherwise tied up in their school board's monthly meeting.
Following the meeting, COCSD Superintendent Steve King expressed "gratitude to our community."
"Cottonwood-Oak Creek stands behind its schools and its kids," says King, the district's first-year superintendent. "I cannot be more proud of being a superintendent anywhere. I'm proud of our staff; I'm proud of our community."
According to the unofficial results, 4,081 of the 6,743 participating Mingus Union High School District's voters said yes to the budget override, with 2,662 voting no.
Of the 5,680 participating Cottonwood-Oak Creek School District voters, 3,457 said yes, and 2,223 said no.
-- Follow Bill Helm on Twitter @BillHelm42