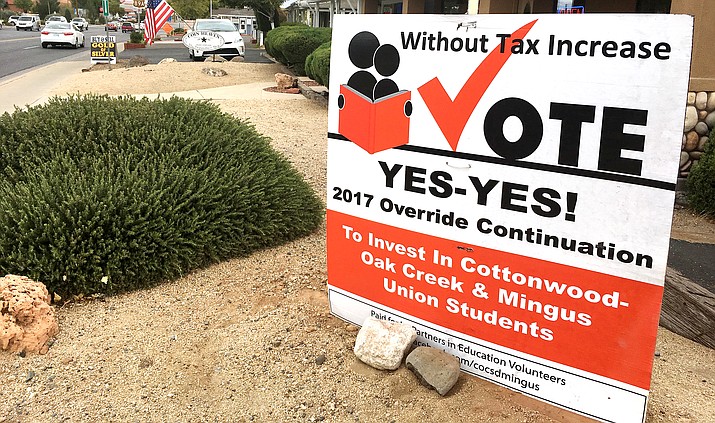 Originally Published: November 11, 2017 1:49 p.m.
The successful Yes-Yes campaign for the Cottonwood-Oak Creek and Mingus Union overrides this past week greatly benefited from having history on its side.
History in the sense that these overrides represented a continuation of long-standing fiscal support of the two school districts by local voters.
The Yes-Yes effort also greatly benefited from the well-established leadership trait of delivering a simple, straight-forward and consistent message. The message being is that these overrides only represent a continuation of the status quo. They do not represent an increase in taxation.
Finally, Yes-Yes was a success because of a collective mindset and approach by the group's leadership that always will resonate well with voters. That mindset was best communicated by Yes-Yes co-organizer Brandi Bateman. The two school districts seeking separate overrides are "serving the same students," said Bateman. "They start at Cottonwood-Oak Creek, they end up at Mingus. We want to be a unified front for our kids."
As the Upper Verde's education focus now shifts from overrides to the long-debated consolidation of the two school districts, there is obviously a lot of wisdom to be gained from those who orchestrated the Yes-Yes campaign.
First, the message to the community on consolidation-unification needs to follow the simple, straight-forward and consistent approach of the Yes-Yes campaign. Give the voters the facts – not personal opinion -- on consolidation/unification and they can be trusted to make a sound collective decision. Past efforts on consolidation/unification have mirrored those on Cottonwood annexation issues in that the facts become cloudy and distorted because of special interest manipulation. Good leadership requires a consistent message. It demands quick decisive disclaimers to those who attempt to skew that message.
Second, a key test of leadership for the Cottonwood-Oak Creek and Mingus Union school boards is to stand firm on the Yes-Yes premise that these two school districts serve the same students. Likewise, they serve the same community, and the same taxpayer base.
Consolidation/unification of these two school districts – one that only governs a single school – is not about protecting jobs or turf. Rather, it should be about having an education system that maximizes tax dollars for classroom use instead of administrative redundancy and duplication of services.
The Yes-Yes campaign was a marriage of Cottonwood-Oak Creek and Mingus Union interests dedicated to doing the right thing for the right seasons.
As the emphasis now shifts from overrides to consolidation, let's hope both of our local school boards can measure up to this high standard of leadership.