Mingus star athlete Tyler Kelly signs with college
High school senior taking talents to New Mexico for baseball

Originally Published: November 11, 2017 1:02 p.m.
Mingus Union senior multi-sport star Tyler Kelly will be taking his talents to New Mexico for baseball.
Flanked by teammates and family, on Thursday afternoon Kelly signed a National Letter of Intent to go to New Mexico.
"It was just the best fit for me, I just liked their campus, I like their coaches," Kelly said.
Kelly is one of 10 recruits that the defending Mountain West champions signed.
"Tyler is a great athlete and a great competitor," said UNM coach Ray Birmingham in a press release. "He's a winner and I'm very excited for him to be here. Anytime you get someone who plays multiple sports, and is successful at them, you know you are getting someone who is going to be competitive and be a gamer."
According to UNM, Tyler is a "consummate competitor," who "displays a combination of quickness and power in a strong, compact frame," and he "maintains a tenacity in his play that is invaluable to any program." The press release said "he will have an excellent opportunity to hit at the top of the Lobo lineup."
"I've been watching Tyler play baseball since he was five years old and from five we knew that we was special," said Mingus head baseball coach Tim McKeever Jr. "During Little League, he was one of the only guys that we ever let play Majors at eight years old and he was tearing it up. His love and passion for the game is just amazing. His work ethic on all of his skills, hitting, fielding, throwing, is second to none the kid's worked his tail off."
UNM is located in Albuquerque and has an enrollment of about 27,000.
Kelly chose New Mexico over Grand Canyon, Yavapai, Hawaii and Arizona. He said he expects to study business.
"It's going to be cool being a big school, just a lot more people, a lot more stuff to do," Kelly said. "It'll be fun, experiencing a university. Being far away from home I don't mind."
He said if he doesn't make it to the Major Leagues, then his next goal is to become a Navy Seal.
McKeever said it is amazing to see a kid he's watched grow up become so successful.
Although Mingus Union has had NCAA Division I players in the past, there hasn't been many lately.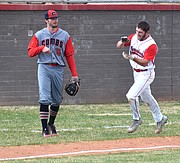 "It's real cool, we've had several guys go D-I in the past and we've had guys get drafted and stuff like that but there's been kind of a drought for a while and so it's exciting and I hope everybody rallies around him and his accomplishment and hopefully it will show the younger guys too that if you work hard, you can fulfill your dream and that's been Tyler's dream ever since I met him is to be a professional baseball player and this is the next step and I just couldn't be happier for him or more proud of him," McKeever said.
Kelly, a pitcher and infielder for the Marauders, said he signed as a utility player for the Lobos. New Mexico listed him as an infielder.
As one of the best high school football players in the state, Kelly had a choice to make and he went with baseball.
"I've just been playing baseball longer, it's been my passion longer," Kelly said. "I put more work into baseball than I have football."
After the football season, Kelly was selected Grand Canyon Region player of the year.
"I was honored to have that just because my last year playing I had a good work ethic this whole season and it was just exciting for my team too, for someone from Mingus to get it," Kelly said. "So it was awesome."
Kelly was first team all-region twice, as a kickoff returner and running back. Last year on the diamond he led the state in home runs for part of the season while batting lead off.
"He's one of the best pure athletes I've ever seen," said McKeever, who also coaches football and had been the Marauders' head wrestling coach. "Anything he wants to do he excels at. He's just God given talent, he's just an incredible, incredible athlete."
More like this story
SUBMIT FEEDBACK
Click Below to: