---
---
Visionary artist Alex Grey said, "Be an artist of consciousness. Your picture of reality is your most important creation."
An artist's work is always evolving in response to their consciousness. In many ways their work is like a prism that gathers the light and then reflects the state of their inner world at the moment of creation. This is particularly true of emerging glass artist Marika Israelson.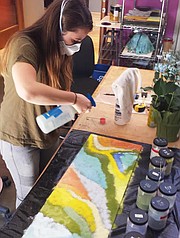 This weekend, November 17-19, artist's collective and gallery Creative Gateways spotlights her work with the special exhibit Awakening Artistry. Join them for an opening reception on Friday, Nov. 17, 5-8 pm.
As the daughter of two artists, Israelson had a paintbrush in hand before she learned how to walk. She was immersed in the visual language of value and contrast during her formative years, and as a result her work vibrates with an inner vitality of light, texture, and color. In addition to her family and the artists at Creative Gateways, her influences include visionary artist Alex Grey and surrealists Salvador Dali and Max Ernst -- all artists who pushed boundaries, something that is highly visible in her work.
"A lot of my artistic inspiration comes from the natural world, as well as the underlying forces that determine our reality," Israelson says. "I work to express the fabric of the universe in a tangible form."
Although familiar with a variety of mediums, she loves exploring the unique nature of glass; how it feels like a dance between her initial inspiration and the innate and sometimes unpredictable nature of the materials. The resulting piece takes on a unique life of its own.
"When you trust the direction that the medium is taking you as much as you trust your own eyes and hands, you can't help but make great art," Israelson muses. When you are gazing at her work, it is viscerally apparent how she aims to draw out the beauty that is inherent within the medium, making it as visible to the outer world as it is within the inner world of the artist.
Much of her work is the result of experimentation. Guided by a creative intuition, she traverses the many different methods that can be applied to glass.
Her artistic journey in the medium can be seen through the evolution of her work from composing pieces with sheet glass, using glass frits and powders, to sand carving and screen printing.
Her work often contains a mixture of natural organic forms with geometric elements, expressing how flow and solidity often work together to compose harmony, mirroring the innate process of working with glass as a medium that can be both in a state of flow as well as rigid and solid.
The finished pieces range from realistic representations of nature to abstract interpretations of experience. Tie dye bowls capture the ever-changing cosmos, and geometric work explores the nature of opposites, demonstrating both strength and fragility in the same piece.
Meet Marika Israelson and the other artists at Creative Gateways during the opening reception for Awakening Artistry on Friday, November 17, from 5-8pm.
View her latest work, sip wine and champagne, and nibble on small plates as you explore the artist's creative spaces.
Creative Gateways is an artist's collective and public gallery space in Sedona. Its working studios are open to all and visitors are welcome to drop in at any time to meet the artists and engage with the creative process.
The gallery space showcases the innovative and lively work that results from this very special environment, for visitors to discover, explore, and take home with them.
Creative Gateways is located at 45 Birch Blvd in Sedona.
For more information about Creative Gateways, please visit www.CreativeGateways.com or call 928-862-4440.