---
---
Linda Sosangelis is a classical figurative and still life painter, whose work is inspired by the Old Masters and 19th century academic narratives. Her enduring interest in detailed realism and 19th century Orientalism began at a young age.
Born in Manhattan, NY, she began developing her artistic skills and personal aesthetic by visiting numerous museums and drawing master studies of classical paintings. After high school, Linda began her formal art training as an Illustration major at the University of the Arts in Philadelphia. She then shifted her focus to fine art painting with additional study at the renowned Studio Incamminati.
Linda bases her work on the return to those standards which demand the knowledge of composition, perspective, color, three-dimensional form, draftsmanship, and anatomy.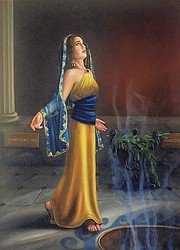 Enveloped by the beauty of Sedona, she works on her still life and figurative paintings in the seclusion of her studio. She puts heart and soul into each work of art she creates. Linda's paintings often breathe an atmosphere from a distant past, whether it is the stuff of legend or historical. She chooses her subjects selectively, and paints them using the techniques of the 17th century Dutch and 19th century Orientalists. This technique enables her to paint realistically and in great detail. She uses this visual language to achieve her aim: creating captivating, harmonious, balanced paintings. Linda devotes her attention to light, shadows, form, balance, color and atmosphere. Not only is technical skill important to her, but compositions should be inspired. She believes a painting consists of the structure of all these facets in which everything has fallen into place. By her broad choice of subjects, she takes into consideration a variety of human interests that arise from different environments and aesthetics. This is found in the diversity of subjects in "Life and Still Life". Moving from Philadelphia to Sedona in 2015, she has developed a distinctive style that is widely recognized and admired. She has held numerous solo exhibitions and her paintings have been sold to collectors across the nation and abroad. With classical skill, and through transparency, depth and texture, she captures the minute details of everyday objects in her luscious still lifes and figurative paintings.
Linda brings sensuality and opulence to her paintings that makes us love the familiar and see beauty in the mundane.
Still Life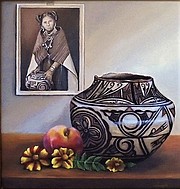 Linda paints objects that delight the eye, describing the beauty of textiles, fruit, flowers, metal, glass and porcelain. Her objects are ordered and well-defined in a shallow space that enhances the viewer's ability to examine them closely. Subjects are truly varied. There are arrangements of Turkish vases, antique silver plates mounded with varieties of fruit or stacks of vintage books topped with a spray of soft petaled roses.
Other paintings depict the richness of Native American artifacts and old photographs, which hold a great deal of mystical value as they are the mirrors of the past.
Figurative
Remembering her childhood and the awe with which she beheld unforgettable images in museums that immortalized and gave life to human beings as the moment when everything clicked, Linda has consistently pursued painting figures. She especially loves dramatic traditional subjects with mythological, religious and historical themes. Her figurative work is ultimately designed to portray a rich image, luxurious in the quality of silk-draped skin within a dramatic atmosphere.