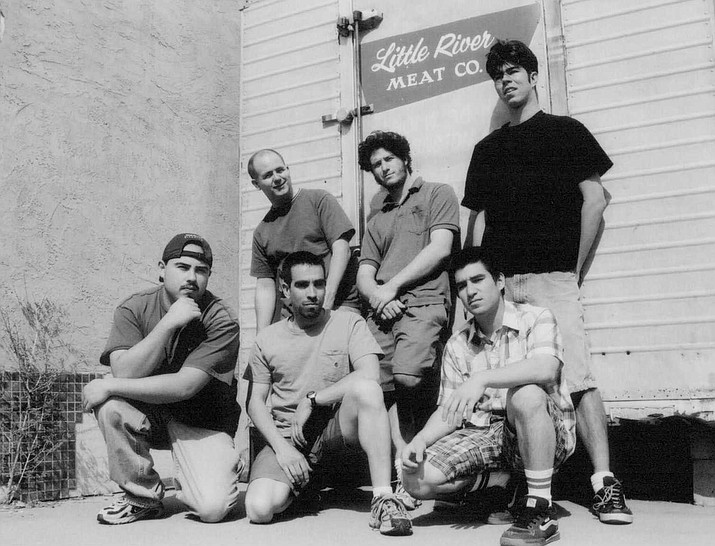 ---
---
Main Stage continues to showcase dance-filled weekends at the Cottonwood music venue.
Friday, November 17 sees the venue-debut of Albuquerque's The Big Spank.
Based in Albuquerque NM, The Big Spank composes and performs with an original musical style that can be loosely described as "Funky-Latin-Punkish-Ska-Pop".
The band has been performing across the southwest since 1998, living a self-described "gypsy-lifestyle" in a converted school bus and touring full time, spreading their love in the form of feel-good tunes that "beg, borrow, and steal" from ska, rock, soul, R&B, hip hop, death metal, polka, Norteño and other genres.
The band is becoming well-known in the Southwest for their stage antics and high-energy live performances. 
The band will be joined by longtime local favorites The Help, recently united for this concert, as well as DJ Nick J.  The show is $5 with doors at 8pm and the music beginning at 9pm.
Saturday, November 18 sees local favorite DJ Johnny K bringing one of his token dance parties to the venue.
DJ Johnny K has seemingly become a Northern Arizona institution with his dance-fueled parties, playing crowd favorites from the 70›s through to modern hits to full houses across the state. 
The evening begins at 9pm and there is no cover charge.
Main Stage has a series of nightly events the remaining nights of the week as well. Mondays feature weekly
Karaoke with host Red Bear at 8pm.
Tuesdays are Pub Trivia with hosts Brett and Candy at 7pm, followed by more Karaoke at 9:30pm.
Wednesdays are "This Ain't Your Grandma's Bingo" with host Penny Smith, cash prizes, and drink specials. Bingo begins at 7pm.
Thursdays see the "Bottom Line Jam" with the Bottom Line Band at 7pm.  The venue is closed on Sundays.
Main Stage is located at 1 S Main St in Cottonwood and is open Monday through Saturday 11am to close and 9am to close and closed on Sundays.
All events are free to the public unless otherwise noted.