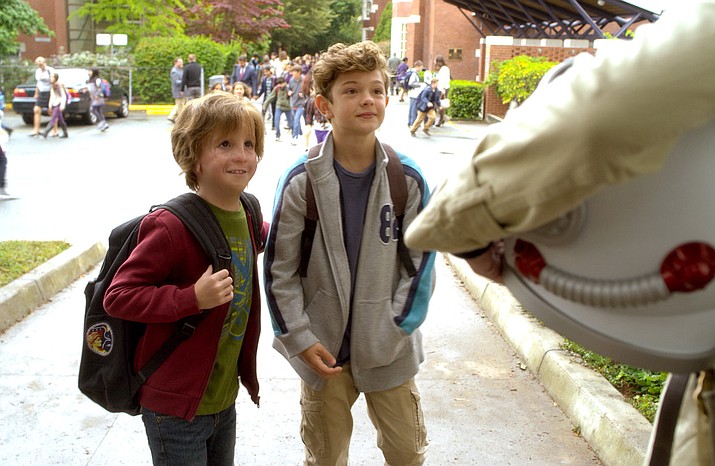 ---
---
Wonder is a formulaic feel-good movie that follows the recipe of many films that we have seen over the years. The benefit in this film is that the ingredients of the story are well presented and the acting is excellent throughout.
Jacob Tremblay (age 11) plays August (Auggie) Pullman. He is the central character in the film. He was born with a disfigured face and underwent many surgical procedures attempting to correct the problem. He is still left with facial differences that make him very self-conscious and reluctant to make friends. When he has to leave the house, he wears an astronaut's helmet which hides his face.
Auggie's parents are well educated, successful professionals who, with their lovely daughter, are fully supportive of Auggie. The Pullmans live in a brownstone home in an upscale section of Brooklyn. The 'sky-cam' views of Brooklyn and Manhattan are a nice interjected feature from time to time.
Auggie's father, Nate (Owen Wilson), is as much a pal as a father could be. His mother, Isabel (Julia Roberts), has been home schooling Auggie up to now. Auggie is very smart and academically ahead of his age group, especially in math and science. He is preparing to go to a select public school in 5th grade.
Auggie is nervous about what kind of reception he will receive. He withstands the shunning and the derision he receives from the other students. His teachers and the principal of the school are very supportive.
One student befriends him and that helps him gain some acceptance. One group of boys do not accept him and they are a problem for him.
Meanwhile we see what is going on in the life of Auggie's older sister, Via (Izabela Vidovic). She is dealing with a problem involving the sudden and unexplainable estrangement of her life-long best friend.
As much as Via adores her brother, she feels some neglect from her parents as they focus more attention on him. In her school, she meets a boy who is attracted to her and it is mutual. He encourages her to take part in a school production of "Our Town," which she does and it turns out well.
All the pieces of this story fall into place by the end and, as we expect, it is a happy ending.
There are also lessons to be drawn from Wonder: judge a person by what he has inside, not what you see on the surface. Even the bullying kids realize this by the climax.
Wonder is a good film to see when you want or need something uplifting. A piece of advice — bring a tissue.
Wonder is at the Harkins Sedona 6 Theater.