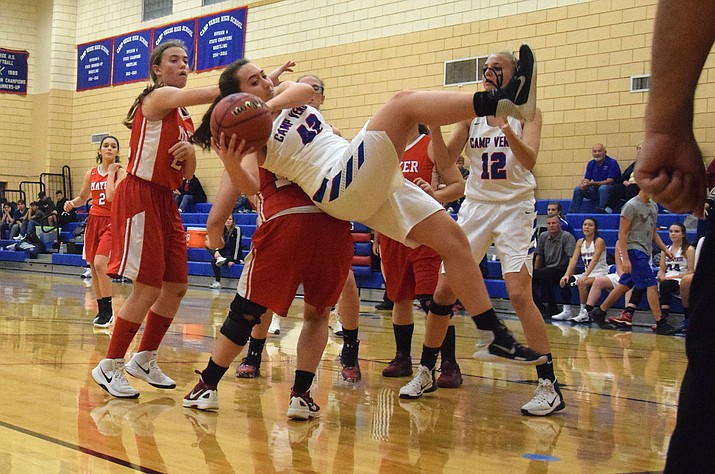 Originally Published: November 22, 2017 10:47 a.m.
Camp Verde High girls basketball rolled to a comfortable win in their season opener.
The Cowboys beat Mayer 48-17 at home on Tuesday night.
Despite the big win, CV head coach Mark Showers said there is lots of room for improvement.
Sophomore post Jacy Finley led the way for Camp Verde. She had seven offensive rebounds.
"Jacy had a great game, she had 18 rebounds, 15 points and six blocked shots," Showers said. "She was a horse a inside and she'll get better."
Freshman Maya Hedges had five steals and as a team the Cowboys had 16 and every Camp Verde player had at least one.
Showers said he expects the team as a whole to get better. Of their nine players, seven are sophomores and one is a freshman.
"What I told the girls (Tuesday) night is 'they're all young, this is the first game of the season, there's lots of room for improvement, the team's going to get better," Showers said. "So it's kinda nice that we're going to get to that point. One of the biggest issues we had (Tuesday) night is instead of getting set and taking a good shot, they were just catching and chucking and that's not gonna help us offensively. They learned a new man offense this year so we still have some work to do on that, there's lots of room for improvement."
Mayer is a 1A school that went 8-11 last year.
Showers said it is nice to begin the season with a comfortable win.
"You want to start off with a game that you can get all the kids in, a lot of time for everybody and work on a bunch of things," Showers said. "I was glad that Mayer ran a man against us because that gives us a good opportunity to work on our man offense."
The Cowboys next play on Tuesday at Scottsdale Prep and then go to the Phoenix Country Day tournament. Their next home game is Dec. 7 when they host Bourgade Catholic.
"After Thanksgiving, we got a lot of basketball to play," Showers said.