---
---
Friday, December 1 sees the final 2017 installment of Main Stage's monthly "First Friday's Dance Party" with DJ ill.Ego. DJ ill.Ego's performance roots began at Cottonwood's Main Stage and have seen him garner a thriving and ever-growing fan base not just in the Verde Valley but throughout Arizona.
Ill.Ego has been begun opening for national acts in Flagstaff and Phoenix-area music venues and clubs. Attendees can expect a high-energy dance party featuring music and songs from a variety of genres and decades.
The event is free and begins at 9 p.m.
Saturday, Dec. 2, has rock local promoters Syntheticide Entertainment bringing "A Syntheticide Christmas" to the venue.  The Christmas Party will feature local favorites, Oath to Ashes and Test, as well as Phoenix-based Throw Logic and Tucson's Lethal Injektion. 
Lethal Injektion is a rising "nu metal" act, based out of Tucson Arizona and exploding on the scene in January of 2016.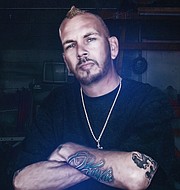 Described as "West Coast Metal", the band features independent rap artist The Raskal, who most recently won "West Coast Artist Of The Year" and at The Under Ground Music Awards in New York in December 2015.
Hip Hop publication The Source calls him "a breath of fresh air" and he's also seen favorable reviews from allhiphop.com, World Star Hip Hop, and more.  The show is $10 with doors at 7:30 p.m. and the show at 8 p.m.
Main Stage has a series of nightly events the remaining nights of the week as well. Mondays feature weekly Karaoke with host Red Bear at 8 p.m. Tuesdays are Pub Trivia with hosts Brett and Candy at 7 p.m., followed by more Karaoke at 9:30 p.m. Wednesdays are "This Ain't Your Grandma's Bingo" with host Penny Smith, cash prizes, and drink specials. Bingo begins at 7 p.m. Thursdays see the "Bottom Line Jam" with the Bottom Line Band at 7 p.m.  The venue is closed on Sundays.
Main Stage is located at 1 S. Main St. in Cottonwood and is open Monday through Saturday 11 a.m. to close and 9 a.m. to close and closed on Sundays. All events are free to the public unless otherwise noted.