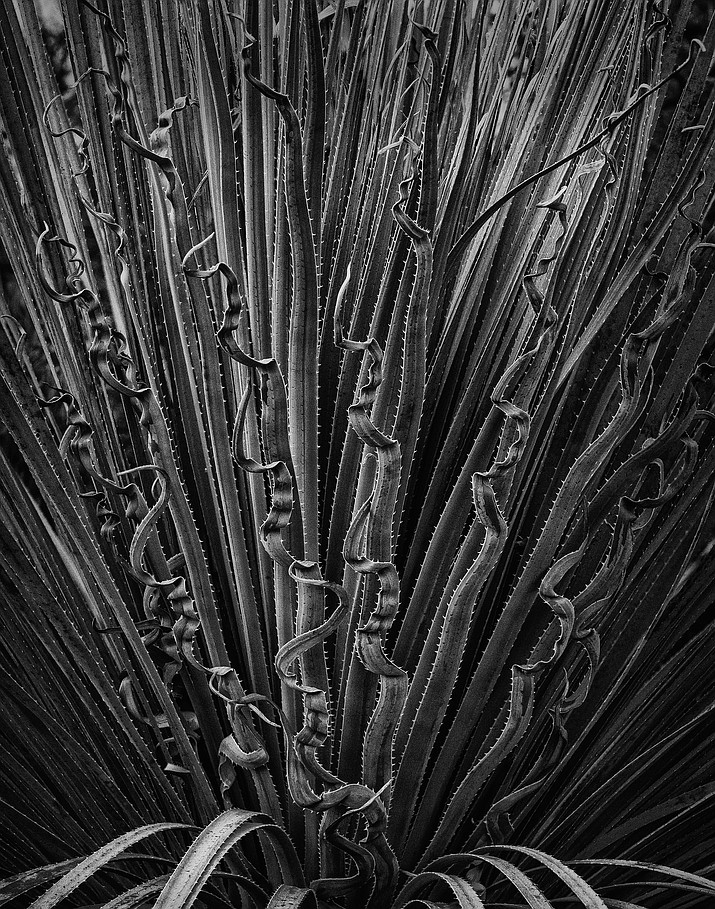 ---
---
The Holidays are just around the corner and what better gift is there than original art? First Saturday Jerome Art Walk is the perfect night to start the season's shopping for the perfect present.
Twenty-one galleries and studios will welcome visitors on Dec. 2 from 5-8 p.m. with beautiful art, music and refreshments. From blown glass to lovely jewelry, there is a treasure to be found for every budget this year.
From the working studios of The Old Jerome High School to the lovely pottery of Made in Jerome, the true handmade Jerome touch is everywhere.
Cody DeLong's paintings, ceramic masterpieces by Margo Mandette, Rick Hernandez's exotic jewelry designs…just a few of the unique creations of Jerome artisans and all in one magical mountain town. The Upper Park will be decorated to the hilt and there will be live music at The Mile High Grill and The Spirit Room.
Zen Mountain Gallery is a great place to find holiday gifts. With over forty local artists, the gallery has a wide variety of affordable ideas. Many new things are in the gallery from fine art and photography to pottery and jewelry.
A number of the gallery's artists are represented exclusively in Northern Arizona by Zen Mountain Gallery such as Nancy Bihler's Jewelry, Hans Miles' pottery and Stephen Moody's photography. Please join the gallery during Art Walk for a glass of wine and hors d'oeuvres as the holiday celebrations begin.
The Jerome Artists' Cooperative Gallery kicks off the Holiday season with their 21st annual All-Members Holiday Show on Jerome's First Saturday Art Walk, Dec. 2, from 5-8 pm at the Gallery, in the Old Hotel Jerome.
Refreshments will be served. Dec. 2 from 5-8 pm. The Jerome Artists' Cooperative Gallery is located at 502 N. Main Street. 928-639-4276        
Join THREADS ON MAIN during the December 2nd Jerome Art Walk and wrap yourself in one of Rita Winters hand-loomed rayon cocoons for a cozy, classy winter look.  Woven in her Guntersville, Alabama studio with sparkling ribbons imbedded in each design, these Cocoons come in a multitude of rich vibrant colors. 
Please join us at Threads on Main for champagne and chocolates during the Art Walk from 5 to 8 p.m. and peruse our large selection of gourmet holiday gift treats as well.
Pura Vida Gallery continues its annual tradition of hosting a handcrafted holiday gift show during the evening of the December Art Walk.  Choose handmade gifts from over 100 American artists. 
Whether it's jewelry, fiber art, ceramics, home décor, or garden art - the gallery has something for everyone and for everyone's budget.  Join the festivities!  The gallery will be serving champagne and holiday treats from 5-8 p.m.
One short year ago, Red Bench landed at the Jerome Art Center in Jerome, AZ. In that time, the space has transformed in a big way, from a photo studio to a photo gallery. We are thrilled to be a part of the community and support local art.  
December's Featured Artist is Brian Williams of Phoenix. Brian is a photographer and videographer who got his start as a portrait photographer in film. Though he utilizes digital photography, he still enjoys working with film, especially black and white.
He spends his time behind the lens as a portrait, event and fine art photographer. Brian's show, "My Little Web Series", will be displayed from Saturday, December 2nd, through the 28th. Stop by during the First Saturday Art Walk and enjoy live music by Rick Cyge of Sedona, free wine, food and snacks (while supplies last) and meet Brian Williams.
Red Bench is also proud to provide a writing space for local author, Zushka Biros. Signed copies of her latest book, The Secret Butterfly Trail (as recently mentioned on NPR), will be available during the Art Walk.
Learn more about Zushka @ zushkabiros.com. We are looking forward to meeting you all at the First Saturday Art Walk on December 2nd! Join us in celebrating our first year!
 Jerome›s Jewelry Artist, Rick Hernandez has been busy creating some fabulous jewelry just in time for the Holidays using some of his Favorite stones such as Arizona Fire Agate, Four Peaks Arizona Amethyst along with the brilliance of Australian Opal in 14 K gold and sterling silver. Rick also has some spectacular creations using Tanzanite, Ruby, Pink Tourmaline, Drusy and Azurite from Jerome.
Rick's son, Ricky has handcrafted some very artistic, contemporary sterling silver pieces.  Ricky is also working on an amazing 3D jewelry line.  Ricky's wife, April creates a very unique line of jewelry using keys & gears with a steampunk flair.  April also creates a wide variety of cameos in rings, pendants and earrings. 
Jerome's Jewelry has the honor to have three artists to the gallery, Kim Maney with her incredible photography creations, Arizona Artist Fredda Psaltis' beautiful healing star pendants  and Sarah Yount - Moser's unusual collection of jewelry.  Stop by Jerome's Jewelry for that Unique Purchase.
With the holidays upon us, one might need some relief! And at Yester Day's Fine Art Gallery we have relief even in material form -- an interesting BRONZE relief, cast in 1983 by Ed Reilly of Bronze Smith Fine Art Foundry in Prescott Valley, to commemorate the 400th anniversary of the visit to the Verde Valley of Jerome's first European visitor, Antonio Espejo. A very special antique, as well as work of art, this beautiful plaque will be well worth stopping by the gallery to see and enjoy.
Gallery 527 in Jerome welcomes the holiday season with new work by ceramic artist Ben Roti. His collection of functional work includes brightly colored bowls, mugs, cups and plates. Teal has created intriguing crystal pieces that are sure to please the jewelry lover on your list and Lorraine Fexas offers fused glass ornaments, coasters and plates in lovely patterns and hues.
For the true art lover, consider a major investment in the work of Susan Pitcairn (plein air), Julie Bernstein-Engelmann (abstract), Sharron Vincent Porter (Mixed media) and Ardis Harsche (encaustic).
Stop by for good art, good food and wine and lively conversation at this gallery of local artists. For more information about Jerome Art Walk, contact Donna at 928.649.2277 or visit jeromeartwalk.com.