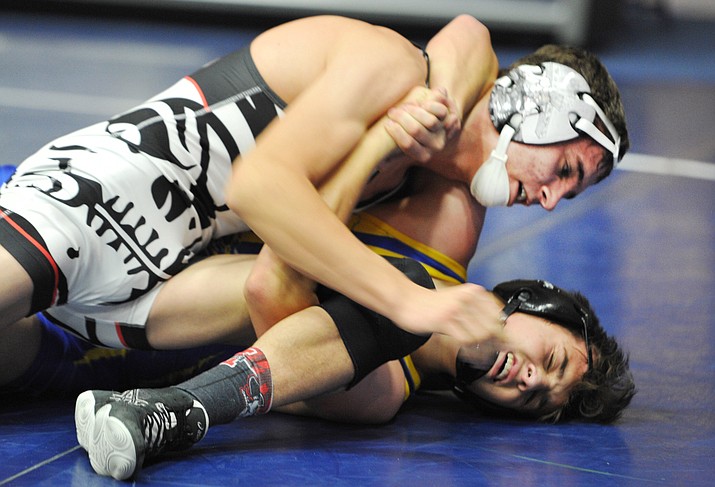 Originally Published: November 30, 2017 3:55 p.m.
Despite being short handed, Mingus Union wrestling posted some impressive results in their first two outings.
On Wednesday at home, Mingus Union dropped duals to Page and Snowflake. However, Lucas Svoboda, Trent Miller and Nick Doerksen went undefeated.
"It was mixed results," said Mingus head coach Klint McKean on Wednesday. "We lost both duals but we had some individuals that did really well. It's Luca Svoboda's birthday today, so it was a good birthday present for him, going 2-0 and he Trent Miller are both undefeated on the year."
Miller remained unbeaten in impressive fashion, earning roars from the crowd.
"Trent was challenged (Wednesday) and was losing the match and ended up pinning his opponent to win," McKean said. "So that was a good test for him."
Last year Page finished seventh at state, with Snowflake tying with Mingus Union for 15th. They both figure to be major threats in Division III Section IV.
"Those are two really good teams in our section and in the state and they have a number of state placers," McKean said. "So those are some of the better teams."
Last week at the Yavapai County Duals at Embry-Riddle, the Marauders came in even more short handed than usual but still impressed.
The Marauders lost to Prescott and Bradshaw Mountain but beat Wickenburg and took fifth in the seven team event.
"I was happy with our performance," McKean said. "At the Yavapai County Duals we were giving up a lot of weight classes, we didn't have our full team and we were giving up six weight classes that we were forfeiting. We won head to head against Prescott and Bradshaw, but then lost on giving up forfeit points.
So we felt good that we were able to win the matches that we were wrestling. We pretty much dominated Bradshaw Mountain in our matches and eeked out Prescott and also beat Wickenburg so we ended up fifth."
Prescott won the event by beating Camp Verde.
"It was a moral victory, we still lost the dual," McKean said. "So I told the wrestlers: 'a moral victory feels good but if it comes down to it, we still lost' We're still working on getting better, improving, learning and just trying to get them to learn to fight."
Zach Moreno went undefeated, one of three MU wrestlers to go undefeated.
McKean said Yavapai County wrestling is strong again this year.
:It's good this year I mean it's been good for years," McKean said. "You've got division III and IV between all the county teams and Yavapai County's a tough wrestling county."
This weekend the Marauders head to the Verde Duals at Camp Verde. The wrestling starts at 11 a.m. Friday and goes until 10 p.m. Then on Saturday it picks up at 9:30 a.m. and goes until 8 p.m.
"There's going to be a lot of teams at Camp Verde and of course Camp Verde's there and they're always tough," McKean said. "So it's going to be a good test for us but we're still trying to put the pieces together to field a full team and still working. It's a long season and this is just the beginning we're trying to get our wrestlers to realize that, to stay healthy, to continue to work on their conditioning and our strength and just look at each week as a stepping stone and a building block."
More like this story