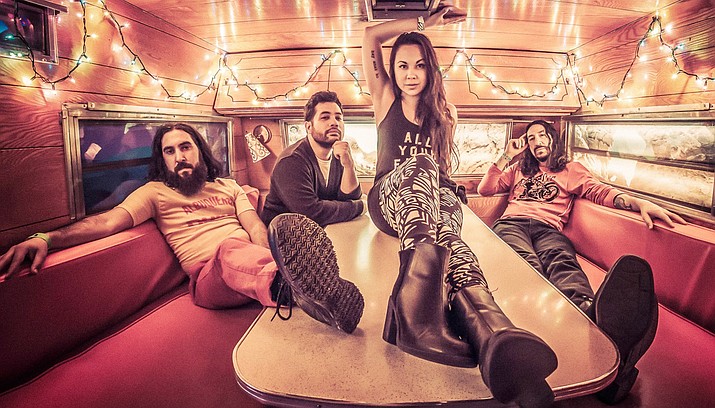 ---
---
Cottonwood's Main Stage will play host to some unique events and special musical visitors this weekend.
Thursday, October 12 sees a special visit from Albuquerque's Red Light Cameras.  Named "Best Band" in Albuquerque by local press several times running, Red Light Cameras plays a mix of soulful rock and garage pop.
The group has been playing since 2010, supporting such acts at Dum Dum Girls, Said the Whale, and Girl in a Coma. Red Light Cameras released their sophomore effort, "For Those Who Favor Fire" this November, which garnered them a New Mexico Music Award for Best Pop Album and a repeat Best Band award from the Local iQ. The band's infectious hooks and bouncing beats are destined to have you on the dance floor and their high energy performance is sure to keep you coming back for more.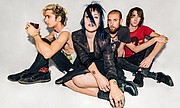 Red Light Cameras will be joined by Phoenix-based Fairy Bones.  After being named "Best Local Band" of 2015 by Phoenix New Times, the group of colorful misfits has been lighting up the stage as support for KONGOS, St Lucia, Mother Mother, Marcy Playground, Fuel, Alien Ant Farm, and Kyle Gass Band. Paste Magazine declared Fairy Bones a "four-piece art/glam/rock monster" while praising lead singer Chelsey Louise's "incomparable pipes," which they noted, "few rock voices today can compare, of any gender."  
Imagine epic, dramatic alternative-pop songs sent out to the back rows of a stadium by a charismatic force of nature who could more than hold her own against whatever Florence Welch could throw her way, sharing space on a stunning debut with songs that filter lofty art-rock sensibilities through the reckless abandon of punk. 
The concert is free with doors at 7 pm and the show at 7:30 pm.
Saturday, October 14 sees the Main Stage debut of The August West Band. The August West Band is a high-energy alt-country band based out of Cottonwood Arizona featuring some of the best players in the Verde Valley.
The August West Bend was formed out of a love for outlaw country music and southern rock.
Taking a jam band approach to alt-country, the band features Don Whitcher on lap steel and slide guitar, Michael Drew on the drums, Ivan Wade on bass guitar and August West on electric guitar and vocals .
The band blends the power of the Allman Brothers with the grit of Waylon Jennings rendering a beautiful soulful sound, covering bands like The Byrds, the Flying burrito brothers, uncle Tupelo , Son Volt, Bob Dylan and Merle Haggard. The show is free and begins at 8 pm.
Main Stage has a series of nightly events the remaining nights of the week as well. Mondays feature weekly Karaoke with host Red Bear at 8 pm.
Tuesdays are Pub Trivia with hosts Brett and Candy at 7 pm, followed by more Karaoke at 9:30 pm.
Wednesdays are "This Ain't Your Grandma's Bingo" with host Penny Smith, cash prizes, and drink specials. Bongo begins at 7pm.
Thursdays see the "Bottom Line Jam" with the Bottom Line Band at 7pm.  The venue is closed on Sundays.
Main Stage is located at 1 S Main St in Cottonwood and is open Monday through Saturday 11 am to close and 9am to close and closed on Sundays.
All events are free to the public unless otherwise noted.