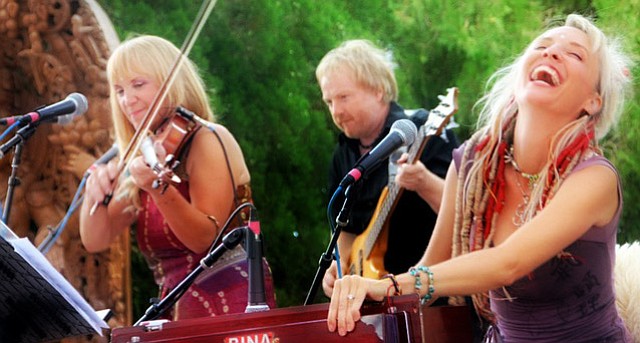 ---
---
SEDONA – Larisa Stow & Shakti Tribe will bring their vibration-raising revolution and edgy blend of mantra-infused rock to Seven Centers Yoga Arts on Friday October 13th at 7:30 pm.
Fronted by force of nature Larisa Stow, their music is an East meets West fusion of English and Sanskrit. Larisa's captivating style & stellar vocals combined with her band's impeccable musicianship have earned them 2011 Malibu Music Award for World Music, and have garnered main stage slots at numerous festivals in the US and abroad including Lightning in a Bottle, Bhaktifest & Bali Spirit Festival, opening act spots for well-known artists, and appearances with spiritual leaders including Deepak Chopra.
Their self-produced album "Rock On Sat Nam!" mixes empowered rap, rock, pop, Sanskrit and slamming beats. Brenda Patoine of Bhakti Beat call Shakti Tribe "a seamless fusion of edgy, urban rock and sacred mantra-with-a-message (that) will very likely have you dancing like a wild man and contemplating the nature of your true existence."
Taking to heart Gandhi's philosophy "be the change you wish to see in the world," Larisa Stow & Shakti Tribe have established the Shakti Tribe Peace Outreach Program, through which they give special concerts in prisons, jails, juvenile detention facilities and recovery centers where they share tools of transformation including yoga, mantra, meditation, and personal responsibility.
Their music is a vehicle for creating Peace.   www.larisastow.com
The concert will be held at Seven Centers Yoga Arts, 2115 Mountain Road, Sedona, Info: 928-203-1147 or www.BhaktiTribeSedona.com, Tickets are $25 Pre-sale @ BhaktiTribeSedona.com / $25 at the door.