---
---
Marshall
Open Road Films
Director: Reginald Hudlin
Writers: Jacob Koskoff, Michael Koskoff
Producers: Reginald Hudlin. Paula Wagner, et al.
Cast: Dan Stevens, Kate Hudson, Sophia Bush, Keesha Sharp, et. al.
About a young Thurgood Marshall, the first African-American Supreme Court Justice, as he battles through one of his career-defining cases.
Rated PG-13 for mature thematic content, sexuality, violence and some strong language.
The Snowman
Universal Pictures
Director: Tomas Alfredson
Writers: Hossein Amini, Peter Straughan
Producers: Tim Bevan, Robyn Slovo, Peter Gustafsson, et al.
Cast: Rebecca Ferguson, Michael Fassbender, Chloë Sevigny, Val Kilmer, et. al.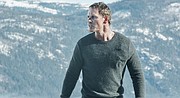 When an elite crime squad's lead detective investigates the disappearance of a victim on the first snow of winter, he fears an elusive serial killer may be active again.
With the help of a brilliant recruit, the cop must connect decades-old cold cases to the brutal new one if he hopes to outwit this unthinkable evil before the next snowfall.