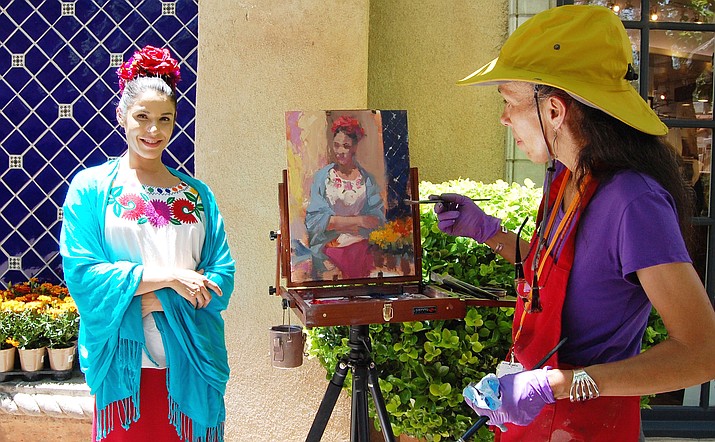 ---
---
Sedona's iconic creative event, the Sedona Plein Air Festival is a weeklong celebration of extraordinary landscapes, world-renowned artists, unique workshops, and wonderful free events from October 14-21.
Sedona Arts Center invites you along to get creative and experience over two-dozen master painters in action -- making their art on location in beautiful Sedona.
This year's festival artists: 
Jill Banks
Richard Boyer
Betty Carr
Bill Cramer
Martin Dimitrov
Chris Finefrock
Tracey Frugoli
Scott Gellatly
Robert Goldman
Bruce Gomez
Lynn Heil
J. Brad Holt
Qiang Huang
Robert Impellizeri
Peter Jefferson
Gretchen Lopez
Andre Lucero
James McGrew
Kathie Odom
Susan Pitcairn
Patrick Saunders
Rachel Schlueter
Stock Schlueter
Matt Sterbenz
Gregory Stocks
Williamson Tapia
Melanie Thompson
Jim Wodark
The 13th annual Sedona Plein Air Festival will present three free paint out events. The public is invited to L'Auberge de Sedona, Seven Canyons Resort and Uptown Sedona to meet world-class artists and enjoy new paintings being created.
At the end of each paint-out event, the artists will frame and present the works for sale on the easels they used to paint them. Each event features awards by Gamblin Oils and Guerrilla Painter. Don't miss these three fantastic opportunities to connect with Sedona's renowned plein air identity. 
Opening Wine Reception Saturday, Oct. 14, 7 pm
The Festival begins with an opening wine reception in the Arts Center's Uptown Historic Art Barn at 7pm, Saturday October 14. Come meet the 28 Festival Artists who have brought work with them from their own terrain across the U.S. and see their diversity of style and talent!
Creekside Paint Out at L'Auberge de Sedona  Wednesday, October 18, 10 am to noon
L'Auberge de Sedona hosts the Festival's Creekside Paint Out, and the public is invited to this beautiful resort to watch artists as they depict the spectacular scenery and flowing Oak Creek. Experience first hand the moving water, reflections, sycamores, ducks and stunning rock waterfalls as artists paint begin painting at 10am.
At noon, awards will be presented to the artists and the works created at the event will be available for sale immediately following on the lawn.
Attendees can park for FREE in the Arts Center lot and take the free Public Shuttle to and from L'Auberge from 9:30 to 1:30 pm.
"The Plein Air Adventure" Keynote with Joshua Been Wednesday, Oct. 18 at 7 pm
Born in 1974, Joshua Been had no shortage of outdoor adventures that cultivated his appreciation for the natural world. Join Joshua as he shares his personal journey as a leading plein air painter during his digital presentation on Wednesday, October 18 at 7pm in the Historic Art Barn. This talk is free and open to the public with a wine reception following in the Special Exhibition Gallery.
Paint Out at Seven Canyons Resort Thursday, October 19, 1-4 pm
Watch artists paint the afternoon and evening light as it carves it's way through majestic red rock profiles in an environment like no other in Sedona. A rare jewel surrounded by protected national forest land, Seven Canyons is a local scenic treasure that spans 200 stunningly beautiful acres. Plein air artists will explore panoramic vistas from the Clubhouse, water features on the golf course, and views from beautiful Rachel's Knoll. Art sales, an award ceremony, and wine reception will follow at 4pm on the event lawn.  
Plein Air to Studio Demonstration with Joshua Been Friday, October 20, 9 am-1 pm
Join Joshua Been, this year's Keynote Speaker in the last session of his three-day workshop for a demonstration of his studio process as he works up a larger painting from plein air study.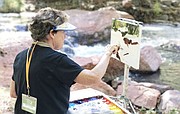 This demonstration will be a wonderful overview, and a great opportunity to review and re-take notes on effective studio practices incorporating every bit of knowledge gained through the plein air experience. Throughout the demonstration, Josh will be talking about crucial decisions in the process, and how to stay engaged, efficient, and deliberate in applying paint. Call 928-282-3809 to sign up for this special demonstration. ($50)
Plein Air Party and Awards Presentation Friday, October 20, 5 to 8 pm
Indulge in fine wine, fine hors d'oeuvres and fine art in the company of festival artists, art collectors and art lovers during this party and awards presentation. This is the 'big event' where artists' awards are presented throughout the evening recognizing the best work created during the week including Best of Show and merit awards by Festival Judge Josh Been, Artist's Choice Award, Collectors Choice by ballot and Sedona Arts Center Awards. The event is held at Sedona Arts Center's Special Exhibition Gallery and Theatre Studio in the Historic Art Barn and is free and open to the public. 
Main Street Paint Out Saturday, October 21, 10 am to Noon
After the awards on Friday night, join us for the last hurrah of the 2017 Sedona Plein Air Festival! The Main Street Paint Out is one of the Arts Center's most popular events. Don't miss the final opportunity to mingle with world-renowned artists, view their take on local landscapes, and observe them in action on the streets of Uptown Sedona. The event will feature live painting along Highway 89A from Sedona Arts center to Pink Jeep Café. Sale of Main Street Paint Out works will be held from Noon to 2pm in front of the Arts Center's Fine Art Gallery.