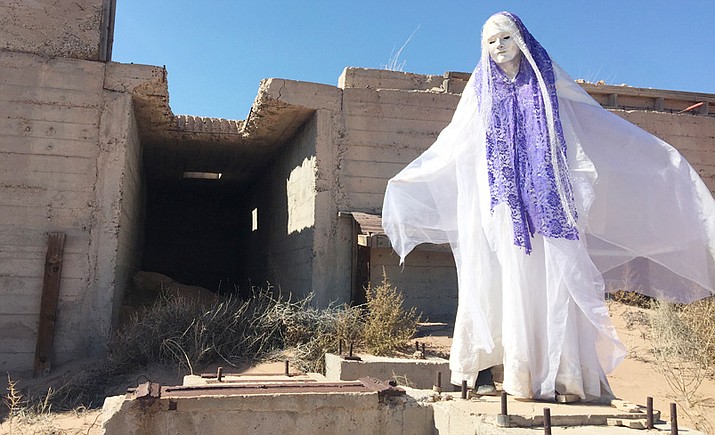 ---
---
 On Oct. 17, at 6:30 p.m., at the Coconino Center for the Arts, Sedona mask maker and performance artist Pash Galbavy will offer mask presentation, "I-Witness,"  as part of the Flagstaff Arts Council uranium mining education project, Hope and Trauma in a Poisoned Land.  
The Hope and Trauma exhibition, which runs through Oct. 28, explores the impact of uranium mining on Navajo lands and people. 
For the exhibition, participating artists created work based on the experiences and perspectives of Navajo people. Pieces were developed using the stories from Navajo communities of radiation related impacts to their bodies, lands, water, animals, and materials they used in their everyday lives. For her I-Witness presentation, Pash will bring to life a number of her masks as she shares about her experience of participating in the uranium education program. Pash also made a new mask, Radon Daughter, which she embodied during the opening reception, which is now on display as part of the exhibit.
Hope and Trauma exhibit artwork is based on a series of educational programs that took place in Cameron, Arizona, and in Flagstaff, in October 2016. Artists attended a four-day intensive education program, which immersed them in the landscape where uranium mining and contamination has occurred on the Navajo Nation. They learned from Navajo community members, scientists, health care professionals, mental health professionals, and other experts about the impacts of uranium mining. From 1944 to 1986, nearly 20 million tons of uranium was extracted from Navajo lands. At the time, Navajo miners and residents were not informed of the health impacts of working in the mines, or of the impact on their lands. Many Navajo people have died of kidney failure and cancer from conditions linked to uranium contamination. Research from the CDC shows uranium in babies born now.
More than one thousand abandoned uranium mines are located on the Navajo reservation in northeastern Arizona, Utah and New Mexico. Hundreds are located within fifty miles of Flagstaff near and in Cameron, Arizona. According to the US Geological Survey, 5 regional springs and five wells around the Grand Canyon already exceed the Environmental Protection Agency safe drinking water standards for radiation. The federal government recently agreed to commit over $1 billion to clean up 94 abandoned mines on the Navajo Nation. The estimated cost to clean up all abandoned mines is likely too large to calculate.
Pash says: "I was shocked to learn the number of mines and how they continue to affect people. Then I was stunned to see how they have never been properly cleaned up, and how close some are to where people live. We also went to several open mines right next to the Little Colorado River, which of course flows into the Big Colorado and provides water to some 40 million people from there to Los Angeles and beyond. It is unconscionable that efforts are underway to re-open some of the old mines." (See www.haulno.org for information on supporting Indigenous-led attempts to protest mine re-openings.)
Hope and Trauma, is funded in part through a grant from the National Endowment for the Arts. The exhibition is open to the public through Oct. 28. I-Witness will take place on Oct. 17 at 6:30pm. The Coconino Center for the Arts' is located at 2300 N. Fort Valley Rd.  The gallery is open Tuesday - Saturday 11 am- 5 pm, all exhibitions have free admission. 
More information on all exhibitions and events can be found online at flagartscouncil.org or by calling (928) 779-2300