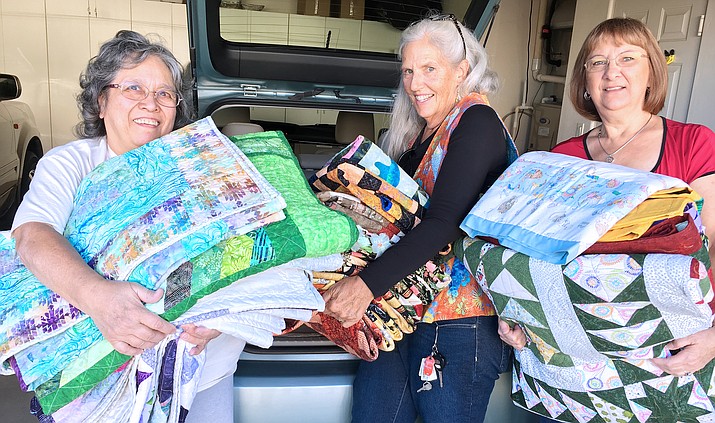 Originally Published: October 10, 2017 1:28 p.m.
COTTONWOOD – Quail Country Quilters member Karen Crowder figures that she has gifted about two-thirds of the quilts she has made.
This year, she plans to display five of her quilts at the annual Covey of Quilts show at Cottonwood Middle School. One of her quilts recently found a new home in China, thanks to her nephew and his wife.
"They went for a visit to meet the family," she says. "And it went with them. At a dinner when they met the family, the matriarch made a speech. She knew this marriage would last because of the quilt they were given."
In 2015, Quail Country Quilters member Liz Stark received a comfort quilt from the guild.
"So far, I'm cancer-free," Stark says. "I cherish the friendships I've made through the Quail Country Quilters."
The Quail Country Quilters always welcome new members. Meetings are at the VFW Post 7400, located at 705 E. Aspen in Cottonwood, from 9 a.m. to noon the second and fourth Thursday of each month.
The Quail Country Quilters also have a subcommittee that they call the Scrap Rats.
This group accepts donations of fabric, then members design, sew and create the charity quilts.
The Scrap Rats meet at 9 a.m. the first and third Thursdays of each month.
For fabric donations, contact Bev Lawrence at 928-300-7891 or bevtod@cableone.net.
-- Follow Bill Helm on Twitter @BillHelm42
More like this story