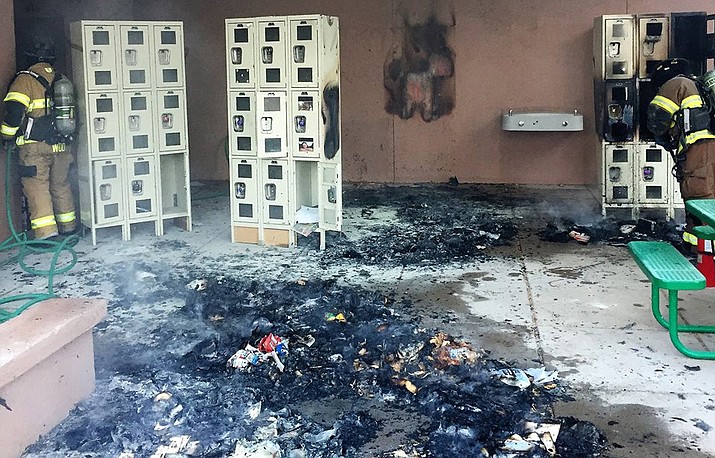 Originally Published: October 10, 2017 1:48 p.m.
SEDONA – Two suspects are in custody for a slew of suspicious fires that were set Sunday morning in Sedona.
Sedona Police Sgt. James Pott said two juvenile males, aged 15 and 16, were taken into custody and charged with the fires. They were both taken to the Yavapai County Juvenile Detention facility in Prescott.
Sedona Police Detectives and Sedona Fire District Fire Investigators were able to determine that a total of 25 different fires were set at three different properties.
Around 6:16 a.m., SFD firefighters responded to a trash can fire at West Sedona School, located 570 Posse Ground Road, according to a news release from SFD.
Responding units noticed multiple fires burning in different locations and called for Sedona Police Department and SFD Fire Investigators to assist.
"With one exception, all of the fires were relatively small and most were contained to trash cans," said Fire Marshal Jon Davis. "Most of the fires had consumed the rubbish inside the cans and had already self-extinguished prior to our arrival. One fire was set inside some lockers located on the exterior of the building. That fire did extend into the wall but did not get inside of the adjacent classroom."
Seven fires were ignited at West Sedona School; six fires were set at 525B Posse Ground Road (The Sedona Hub); and 12 fires were set at 525 Posse Ground Road (Posse Ground Park).
Sedona Police Department has two suspects in custody for the fires.
"There is no ongoing threat to the public," said Fire Marshal Davis. "Thanks to eyewitnesses and some great police work, the Sedona Police Department have the suspects in custody."