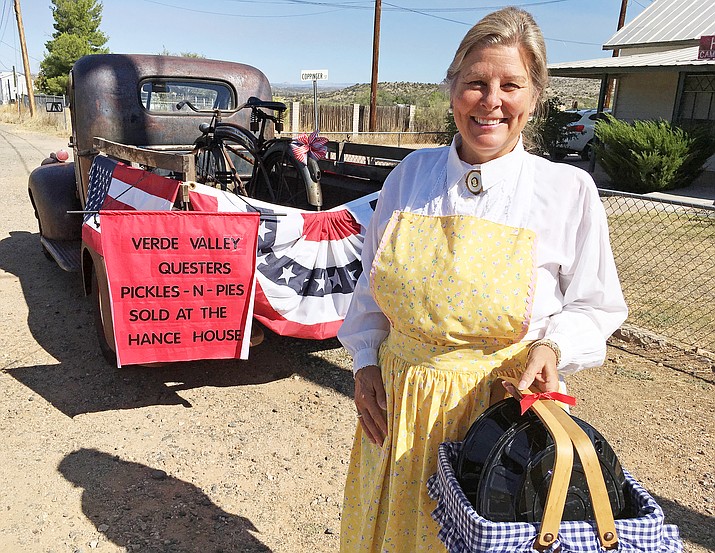 Originally Published: October 10, 2017 1:48 p.m.
CAMP VERDE –– It was 100 years ago when the Historic Hance House was built in Camp Verde by Judge George Hance.
Located on Coppinger Street across from Fort Verde State Historic Park, the building is owned these days by the Camp Verde Historical Society.
Each year, a group of volunteers known as the Verde Valley Questers raises money through the sale of homemade pies – and homemade pickles – and uses that money to restore the Camp Verde landmark.
This year, the Questers, along with their pickles and pies will be at the Hance House from 10:30 a.m. Saturday until there are no more pickles – and no more pies.
There will be no shortage of pies at the Hance House, with a variety of berry pies, as well as apple, peach and an even greater variety of pecan pies, because Malia Adache, one of the Questers, says there's also no shortage of ways to make a pecan pie.
Pies are available at $15 each or $4 per slice. Jars of pickles are $8 each. All purchases are treated as tax-deductible donations.
It's been several years now since the Questers have been making their pies and pickles – and making them available to the community. On average, they make about $1,500 a year on sales, money Adache says goes to a worthy cause.
And speaking of worthy causes, the Questers also plan to show their appreciation to the community – and celebrate the Hance House centennial – at 4 p.m. Saturday when the pick the ticket of some lucky person to receive $100.
Touring the Historic Hance House is free – always is – so anyone and everyone who tours the Hance House on Saturday between 10 a.m. and 4 p.m. will receive a free ticket for a chance to win the $100 prize.
Says Nancy Futral of the Questers, the winner doesn't need to be present.
Any questions, call 928-300-5358.
-- Follow Bill Helm on Twitter @BillHelm42