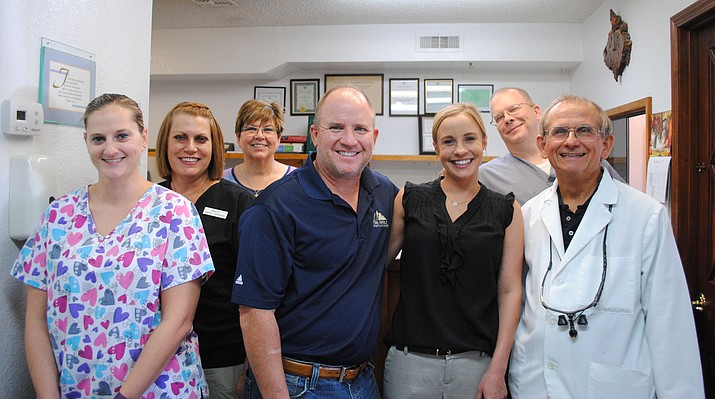 Originally Published: October 12, 2017 2:54 p.m.
COTTONWOOD – "This is the letter you all have known I would someday write. Here it is, I am retiring from dentistry," said the goodbye letter from William F. Guth, D.D.S.
Dr. Guth opened his practice in Cottonwood in 1981. At the time, the city had but one stop light at the intersection of Main Street and SR 89A. The retiring dentist said it is hard for him to believe that 36 years have gone by so quickly, and that Cottonwood has grown in leaps and bounds - as has his practice.
"Your loyalty is the highest compliment you could ever pay me. Thank you for allowing me to serve you as your dentist and friend," said Dr. Guth in his letter.
The retiring dentist said he feels blessed.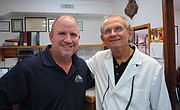 Dr. Bryan Shanahan acquired the practice Oct. 6. Dr. Guth said he has complete confidence that Dr. Shanahan will "continue to deliver high quality patient-centered dental care."
Joining Dr. Shanahan are Drs. Elliot Martich and Ryan Tuinstra. Staff members Crystal, Misty, Doug, Gail, and Konnie will continue to be on hand.
Dr. Guth is working along with the doctors and staff to ensure a smooth transition.
"My retirement is made easier knowing that I am placing my patients in the capable hands of these caring individuals," said Dr. Guth.
It is bittersweet for him. He will miss the patients he has come to know over the years.
What's next for the retiree? He plans to take his wife Mary to Ireland. When the practice opened in 1981, he and his wife were the only employees.
Dr. Shanahan said he is excited to have acquired the practice, and is honored that he was chosen.
Dr. Guth has a wonderful reputation, he said, adding that he will strive to live up to the retiring dentist's standards.
About the doctors Dr. Bryan Shanahan
Dr. Bryan Shanahan is originally from Chicago. He has been practicing in Northern Arizona for over 26 years. He and his wife Jillian have six children ranging in age from 10-24. A past president of the Arizona State Dental Association, he worked tirelessly with the Arizona State Legislature to ensure dental care for the most vulnerable members of society. A life-long student, Dr. Shanahan has advanced training in dental implants and sleep apnea.
Dr. Elliot Martich
Dr. Elliot Martich is a graduate of Midwestern School of Dentistry, Glendale, Arizona. Originally from Scottsdale, he and his wife Bianca prefer a small town atmosphere and are enjoying living in Northern Arizona.
Dr. Ryan Tuinstra
Dr. Ryan Tuinstra is an Arizona native who graduated from the University of California, San Francisco School of Dentistry. He is looking forward to leaving the Bay Area to join the local team.
More like this story