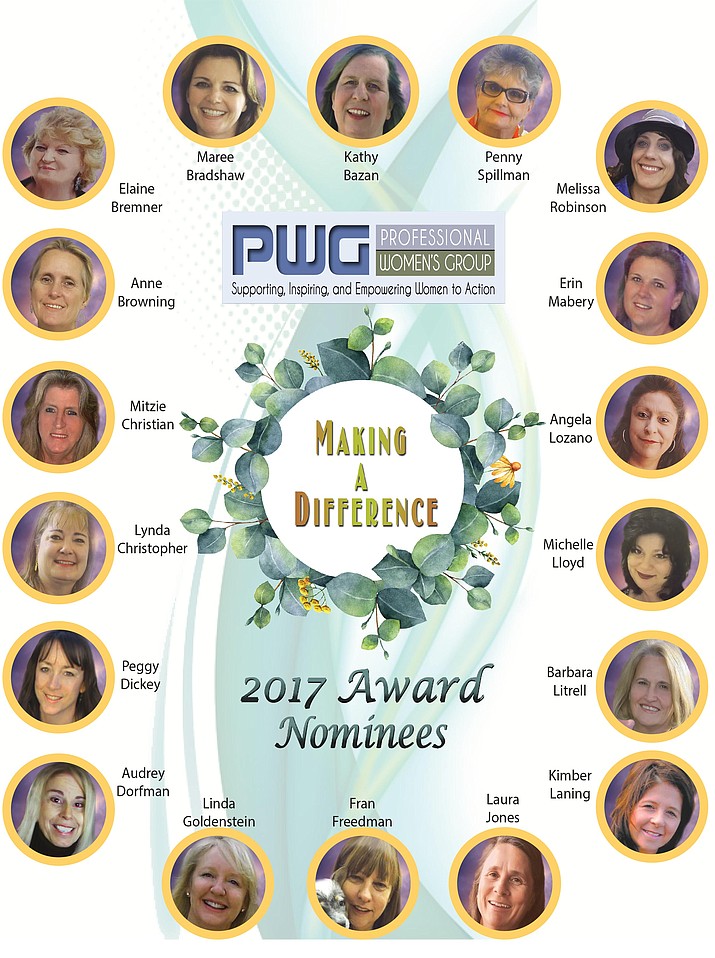 Originally Published: October 14, 2017 2:58 p.m.
Professional Women's Group of Northern Arizona announces its first annual Making a Difference Award event. All nominees will be honored at the quarterly luncheon meeting on Oct. 17 from 11:30 a.m. to 1:30 p.m. at the Cottonwood Recreation Center meeting rooms. The nominees are accomplished women who make a difference as leaders, mentors and advocates. The award will focus on women who volunteer their time, care for and nurture businesses, organizations, families, friends and communities," says Alice Klies, chair of the Making a Difference Award committee.
The following women have been nominated this year:
Kathy Bazan of Business Assistance Center, Cottonwood
Maree Bradshaw of Bradshaw Color Studios and a Red Cross Nurse
Elaine Bremner of Verde Valley Senior Center
Anne Browning of Steps to Recovery Homes
Mitzie Christian of Pet Search and Rescue
Lynda Christopher, Self Defense Master, State Ranger & August 2017 Personal Fitness Trainer of the Month
Peggy Dickey of Camp Verde Unified School District's Fifth Day programs
Audrey Dorfman, Mental Health Coalition Board Member & Criminal Justice Task Force Director                                                                                            
Fran Freedman of Morning Starr Animal Clinic
Linda Goldenstein of Goldenstein Gallery
Laura Jones of Friends of Verde Valley River Greenway
Kimber Lanning of Local First Arizona
Barbara Litrell of Mental Health Coalition Verde Valley
Michelle Lloyd of Sedona Paint Center and Verde Valley Humane Society 
Angie Lozano of Angie's House
Erin Mabery of ACE –Adverse Childhood Experiences 
Melissa Robinson of One for the Verde
Penny Spillman of Y.E.S The ARC
On-line registration is $15 at www.pwgaz.org. The cost is $20 at the door without lunch. The event includes networking opportunities, a 50/50 raffle and amazing door prizes. Please come and support these women who make a difference in employees' and community members' lives.
PWG's vision is to support, inspire and empower women to action. The purpose of the organization is to promote and enhance development and education of professional women in Sedona and the Verde Valley.
More like this story