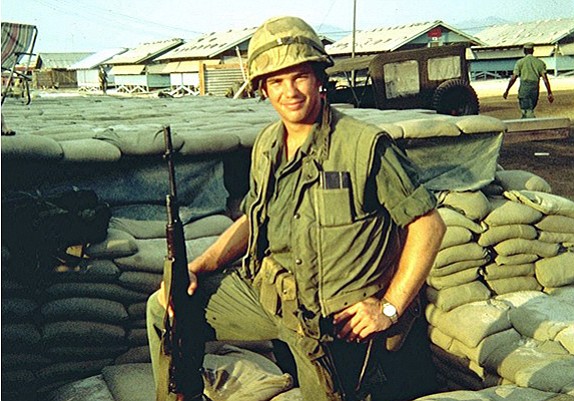 Originally Published: October 17, 2017 2:24 p.m.
Newspaper seeks veteran stories, photos
The Verde Independent and Camp Verde Bugle newspapers are looking for photographs of Verde Valley veterans for inclusion in our Veteran's Day special section, which will publish Friday Nov. 10, 2017.
Please email photographs to bhelm@verdenews.com as large-format, high resolution jpeg attachments.
In addition, please send a story up to 100 words in length describing your military service to our country. Information must include your name, branch of military service, rank, years of service, connection to the Verde Valley and a summary of your military service.
Or, if you would prefer to mail or drop off a copy of your photograph and story, please use the following address: Salute to Veterans, The Verde Independent, 116 S. Main St., Cottonwood, AZ 86326. Photographs and information need to be delivered to the newspaper before Friday, Nov. 3.
Our Shepherd Lutheran church's first pig roast
Our Shepherd Lutheran Church is inviting the public – all of the public – out to its inaugural pig roast, Sunday Nov. 5.
Church service starts at 9 a.m., following the service at 10 a.m. watch as the pig is uncovered, then served at 11 a.m. with beans, cole slaw, lots of breads, and a slew of desserts. Come for the service, stay for the fellowship – and the pig! Everything is free!
Our Shepherd Lutheran Church is located at 1090 S. Page Springs Road in Cornville, next to the Page Springs Fire Station.
Visit ourshepherdlutheranchurch.org or https://www.facebook.com/ourshepherdcornville for more information.
Toastmasters Club to host open house
The Cottonwood Toastmasters Club makes learning to speak in front of an audience fun and entertaining. 
The public is invited to attend a Toastmasters Open House Oct. 30, noon-1 p.m. at Cottonwood Village, located at 201 E. Mingus Ave. 
The Toastmasters Club is an excellent tool for developing self-confidence, not only while speaking in front of others, but also while participating in many roles, such as Toastmaster, Joke Master and improvisation during table topics. 
Toastmasters learn to express ideas, feelings, and beliefs and to experience the warm and friendly environment in which members practice their skills and receive positive feedback. For more information, contact Lou Rangel at 928-300-4945 or Noah Blough at 626-376-7637, or just show up.
No reservation needed. 
Western Round-Up at Rainbow Acres
The Rainbow Acres Family & Friends Open House is schedule for Saturday, Oct. 28. The event is from 9 a.m. until 1:30 p.m. Gates open at 8:45 a.m.
Please join us for a fun filled day. Wear your Cowboy and Cowgirl best.
Come meet the Arizona Rangers, enjoy a walking tour of Rainbow Acres.
Visit the barn where our horses, goats, and guinea pigs live and see our new and refurbished greenhouses at our new Agricultural Center.
For shoppers, we will have the Ranchers arts and crafts, patio stepping stones, as well as fine art displayed for your shopping pleasure.
All proceeds benefit the Ranchers and the Rainbow Acres Art Program.
The Blazin' M Cowboys will be on sight to serenade us with music and if one feels like singing or dancing, please follow your natural instinct to move to the sound of the music.
They will be playing from 11:45 a.m. until 1:30 p.m.
A grilled hot dog or hamburger lunch (for just $8) will be held on the lawn. 
Meet with family, friends and make new friends.  Just a perfect way to spend the day!
Our Ranchers, individuals with developmental disabilities love to welcome new friends to their home.
They are proud of where they live and like to meet new people.
Stop by, say hello and enjoy the day with us. An unforgettable, contagious smile awaits you.
Rainbow Acres is a 50-acre ranch-style community for adults with developmental disabilities. Located just two miles from I-17 off Middle Verde Road, Rainbow Acres is located at 2120 W. Reservation Loop Road in Camp Verde.
Call 928-567-5231 for additional information.
Third Annual Pumpkin Picnic
From 112 a.m. until 2 p.m. Sunday, Oct. 29, Running River School, Sedona's Waldorf-inspired grade school initiative will host its third annual Pumpkin Picnic at 221 Brewer Road.
The ever-growing annual event asks families from around Sedona and the Verde Valley to celebrate the entrance of the fall season with a "bring-your-own" group picnic, pumpkin carving and much more.
The grade school and parent cooperative will treat attending families to complementary pumpkin carving, face-painting, slime making, a tattoo booth, and old-fashioned outdoor games.
Many throughout the area will convene amidst a beautiful red rock backdrop for a fun-filled day of activities for families with young ones.
Inspired by Waldorf education, RRS strives to awaken and develop each child's individual capacities and desire to continually discover the world, and their place within it.
For more information about Running River School visit www.runningriverschool.org or contact Director Guadalupe Pollock at (928) 301-3232.
Rock-a-Rama celebrates 41th annual Gem, Mineral Show in Black Canyon City
Rock-a-Rama is celebrating its 41st annual Gem & Mineral Show in Black Canyon City, AZ on Nov 3 – 5; Fri & Sun 9 – 4; Sat 9 – 5. Free parking & admission.
If you are a rock hound, lapidary expert, or interested in unique jewelry, then come out to High Desert Park at 19001 E. Jacie Lane, Black Canyon City, AZ, and enjoy the day at our park where over 30 vendors and tailgaters will be featured, selling a variety of rock-related wares including fossils, meteorites, rough rocks, minerals, precut cabs, and jewelry.
Food is available in our Clubhouse and we facilitate an excellent and interesting raffle. High Desert Park also offers a beautiful hiking trail at the foot of the Bradshaw mountains.
Bring your hiking stick. Take lots of pictures, and leave only footprints. We hope to see you on one of our trails in the near future!
For more info please visit us online at http://www.highdeserthelpers.org/?tribe_events=rock-a-rama-6 or www.facebook.com/highdeserthelpers or contact DeeDee at darlynndd@q.com or 719.229.7396.
Sedona Art Show benefits hurricane emergency relief fund
What: Sedona Art Show - Hurricane Victim Relief Fund
Where: Corner of Airport Road and SR 89A
Form of event: Raffle - $5 per ticket or 5 tickets for $20
Where to buy raffle - Link to raffle website: https://raffles.ticketprinting.com/?r=6361 or our Facebook page for link: www.facebook.com/artatsedona.
People can also buy raffles in person at the show.
Date of raffle draw: At the show on Oct. 20 -22
Show time: Fri & Sat 9am - 5pm | Sun 9am - 4pm
Charity we are donating funds to: J.J.Watts Charity 
All the money raised will be going to charity, excluding credit card charges and shipping of prizes.
EL Valle Artists Association sponsors workshop by artist Claudia Hartley
EL Valle Artists Association will sponsor an acrylic workshop by Artist Claudia Hartley on October 28, 2017, from 9:00 am to 4:00 pm.  The workshop will be held at the Pine Shadows Club House, located at 2050 W. State Route 89A, Cottonwood, AZ.
Claudia Hartley has spent her years as an artist, not only creating for her own pleasure, but reaching out to her community as a teacher, holding workshops, participating in events and galleries, and featured in many publications.  She has much to share and her workshop will bring a delightful new perspective to those looking for more joy in the creation process.   You can learn more about Claudia by visiting her website at www.claudiahartley.com.   For more information on the upcoming workshop (such as cost and materials), please contact Irene Bauman by email at ibgrace6@msn.com.  
Also, please visit the EL Valle Artists Association website at elvalleartists.org to learn more about membership, meetings and upcoming events or workshops.  All are welcome!
Angels' Attic hosts craft sale
With the holidays approaching, Angels' Attic will have its 23nd annual craft sale Friday and Saturday, 20-21, at Mountain View United Methodist Church, 901 S. 12th St., Cottonwood.
Quality hand-made goods crafted by the women's group will be for sale Friday from 8 a.m. to 4 p.m. and Saturday from 8 a.m. to 2 p.m.
Among the holiday crafts will be aprons, table runners, quilts, needle boxes, adult bibs, wreaths, jewelry, many baby items and hand-painted wood items ideal for gifts.
Baked goods and other homemade edibles also will be featured, as well as a lunch to be served both days from 11 a.m. to 2 p.m. A section called Granny's Treasures will feature "gently-used" items.
Proceeds from the sale will be used for unbudgeted needs at Mountain View United Methodist.
Apples Macintosh Users Group meets on third Saturdays
Oak Creek Apples Macintosh Users Group (OCAMUG) meets 10 a.m. to noon at Si Birch Community Room, at the Sedona Public Library located 3520 White Bear Rd, in West Sedona, 282-7714. Third Saturday of the month.
The Oak Creek Apples group is offering a general question-and-answer workshop on iPads and iPhones, which will be facilitated by Alan Gore. The next meeting will be Saturday, October 21, from 10 a.m. to noon in the Si Birch Community Room at the Sedona Public Library. Admission is free. Pre-registration is desirable but not required. Register by emailing to oakcreekapples@gmail.com.
This workshop is the second of four to be offered by the Oak Creek Apples this fall 2017, with all four co-sponsored by the Sedona Public Library. The other three meetings will be monthly on the third Saturday through December.
The Oak Creek Apples Macintosh Users Group (OCAMUG) is exclusively an educational institution for the public on the use of Apple Computers and other iOS devices, including maintenance, security, and software applications. OCAMUG is a 501.c.3 organization and donations are tax deductible. Membership in the Oak Creek Apples is open to anyone who wishes to belong. For more information ask at the meeting greetings table.
Sedona MUFON welcomes Rojas
Everyone is invited as Sedona MUFON welcomes Alejandro Rojas Friday, Oct. 20, at 7 p.m at the Sedona Public Library, located at 3250 White Bear Road.
Admission is $10, cash only. Presentation Topic is Steven Spielberg: Ufologist!
Alejandro Rojas is Director of Operations for Open Minds Production, the host for Open Minds UFO Radio, editor and contributing writer of OpenMinds.tv, emcee for the International UFO Congress, and blogger for the Huffington Post. 
Halloween Party at American Legion
For American Legion Members: The Boo Crew invites you to a Halloween party Friday, Oct. 27 from 7 to 10 p.m. The costume contest is at 10 p.m. The night will feature karaoke and drink specials.
1st place is $100. 2nd palace is $75. 3rd place is $50. Boooobie prize$20 gift certificate for Legion's Friday Fish Fry. 480 S. Calvary Way, in Cottonwood.
Trunk or Treat at American Legion 25
Come join us for Trunk or Treat at the American Legion Post 25 on Oct. 31 from 5 to 7 p.m. The event is free and features fun and games for children. The event is hosted by the Ladies Auxilary.
480 S. Calvary Way, in Cottonwood. For more information, call 928-634-3004
American Legion hosts Early Bird Dinner
For American Legion members: An Early Bird Dinner Nov. 8 from 5 to 7 p.m. Enjoy Salisbury steak with mashed potatoes and gravy, choice of sweet corn or peas, salad and dessert. Early Bird Members eat free. Guest $8 donation. Please RSVP at the bar or call 928-634-3004. 480 S. Calvary Way, in Cottonwood.
Adopt a Family Thanksgiving
The American Legion Auxiliary will be adopting 20 families. Items needed include cash for turkeys; instant potatoes or 5lb bags; gravy jars and packets; boxed stuffing mix; canned green beans; cream of mushroom soup; French fried onions; canned yams and sweet potatoes; marshmallows; canned cranberry sauce; frozen pumpkin pie; and cash.
We will be delivering the boxes to the families on Saturday, Nov. 18. Donation box will be located in the Social Quarters.
480 S. Calvary Way, in Cottonwood.
Work your mind, Warm your heart
Your local AARP Foundation Tax Aide sites are seeking volunteers for the upcoming tax season.   We have sites in Camp Verde, Cottonwood, and Sedona. 
We provide free, confidential tax service for seniors and low income families.  Experience is not required as training is provided for counselors, client facilitators, and receptionists.  This is a wonderful way to give back to your community.  Please call Pat at 928 567-9251 for further information.
Healing, restoration event at Venue Christ Center Church
Tabernacle of Praise and Worship International invites you to come and experience the healing and restoration 'Manifest Presence of God' event.
The event is Nov. 10 at 5 p.m., and Nov. 11 at 9 a.m. Hosting is Pastor Conga G. and Pastor Steve Soje (special guest). The event takes place at Venue Christ Center Church located 580 Brewer Rd., Sedona.
Essential Oils – the Missing Link
Thursday, October 19, 1–3p.m.
FREE CLASS — Camp Verde Community Library
Wouldn't it be nice if your affirmations, visualizations and positive self-talk were more effective?
Essential oils, a natural and powerful tool can help you stay tuned to your own intuition as you create the life you desire, and deserve!
After an in-depth overview, there will be extended Q&A to address YOUR questions and needs.
Info/preregister, call/text Honey Judith Rubin, 404.626.5235 or Sarah Jensen 928.451.4847.
Free movie at Sedona Public Library
Free movie at Sedona Public Library on Monday, October 23, at 6 pm.
In this action film, Gal Gadot stars as Diana, princess of the Amazons.
When an American pilot crashes on her isolated island and tells her of a conflict raging in the outside world, Diana leaves her home, convinced she can stop the threat. 3250 White Bear Rd., Sedona.
OLLI lunch, learn program features speakers
OLLI (Osher Lifelong Learning Institute) weekly Lunch & Learn program will feature Audree Juhlen, Director of Community Development and Marty Losoff, Chair of the Planning & Zoning Commission, Wednesday, October 18
Bring your lunch to this free weekly community event or enjoy some coffee, tea or water with a little snack, 12:30-2:00 in Room 34 of Yavapai College Sedona Center (on Cultural Park Place, across Rt. 89A from Red Rock High School) and meet these two people who work behind the scenes to maintain Sedona's character and appeal.
Learn how each of these two civic organizations operate, how they collaborate, and what's been going on lately regarding land use, signs, residential development, and other issues important to our community.
For more information, call OLLI at 928-649-4275.
OLLI presents Elizabeth and John Oakes at Wisdom, Beauty and Tea event
OLLI (Osher Lifelong Learning Institute) new weekly free event, Wisdom, Beauty & Tea, presents Elizabeth Oakes, Ph.D., poet and spiritual writer, and John Warren Oakes, painter in acrylic, oil and encaustic, Wednesday, October 18 at 4:00
Elizabeth (Vanderbilt University) is a former Shakespeare and poetry professor at Western Kentucky University. Her first book of poems, The Farmgirl Poems, won the 2004 national Pearl Poetry Prize, and it was followed by four other volumes, most recently Healing Words: A Series of Interlocked Affirmations. She blogs on Art and Writing from the Spiritual Imagination at etherealpub.com and SedonaBiz.
John exhibits internationally and is art director of Ethereal Publications. He taught art at Western Kentucky University for 46 years. He has exhibited in 461 exhibitions and had 50 one-man shows. He has won 35 prizes for his painting, prints, drawings and creative photography. He has works in public or private collections in 25 states and 15 countries.
Come and meet this local author and artist, sip exotic teas and savor pastries from Yavapai College Culinary Institute, at Yavapai College's Sedona Center Atrium (on Cultural Park Place, across Rt. 89A from Red Rock High School) for this informal weekly gathering.
For more information, call OLLI at 928-649-4275.
More like this story