Originally Published: October 25, 2017 1:52 p.m.
JEROME – A 53-foot Family Dollar tractor-trailer, failing to negotiate a hairpin turn on Mingus Mountain about 13 miles south of Jerome, became disabled and halted traffic for three hours Wednesday morning.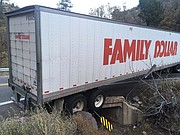 The ordeal, which happened around 5:50 a.m., resulted in the closure of SR 89A in both directions from mile post 331 and 342. Drivers were asked to use an alternative route from Prescott.
Vehicles over 50 feet long are restricted on SR 89A from milepost 331 to 348, said Peter Corbett with Arizona Department of Transportation. Signs are posted along the highway.
Bart Graves of Arizona Department of Public Safety explained that the rear axles of the tractor-trailer came off the road and were hanging over the culvert. Two tow trucks managed to lift up the trailer.
Graves said this type of incident has happened before.
"One trooper has seen this same problem at least three or four times in the last two years," he said.
When asked if the driver was cited, Jerome Police Chief Allen Muma replied, "Oh yes. Trust me."
The driver was cited for failure to obey a traffic control device, and will be responsible for all of the associated costs of the incident, said Chief Muma.