Historical Society recognizes Angel Vargas' service to country, loyalty to Jerome
By GIANINA LOMEDICO, Special to Verde Valley Newspapers
Originally Published: October 28, 2017 2:18 p.m.
JEROME – The Jerome Historical Society honored Korean War Veteran Angel Vargas for his military service and loyalty to Jerome on Oct. 21.
The ceremony took place on Main Street near the town steps of Jerome.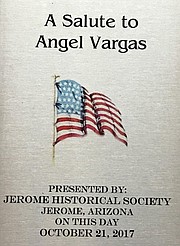 The event included a welcome speech by General Manager Jay Kinsella and a presentation by Secretary Steve Pontious of the Jerome Historical Society. At the end of the presentation, the society gave an award to Vargas. A Mariachi band provided entertainment for the day.
"Angel's contribution to the security of our nation during a lifetime of unwavering dedication is something that should inspire each and every one of us," Pontious said. "It is a sacrifice not done with a lot of fanfare or attention. It was just a duty that had to be done. It was that call of duty which was answered humbly and with quiet purpose that marks the character of a man like Angel Vargas," he said.
Vargas first started out in the Army and later went into the reserve unit. He was a federal employee with the Navajo Army Depot. He ended his miltary service as a reservice in the National Guard. He was cleared for secret security clearance with ammunition for being a lifelong demolitions and explosives operator. He sent ammunition to war zones during the Korean, Desert Storm, and Vietnam Wars.
Vargas' family homesteaded in the Verde Valley in the late 1800s. He was part of a large family that was raised in Jerome. He went to school, delivered milk, learned to drive, and met his wife in Jerome. He knew where the moonshine was sold and had family that worked in a mine. He knows hidden secrets of old unknown cemeteries. He also knew when the outlaws came to town, where goods were traded, and how the railroad was built.
"He is a walking history book. He can still tell all about which buildings still stand and what happened there," said his daughter Loretta Donovan.
Kinsella, the General Manager of the Jerome Historical Society, said that the Board of Directors of the society wanted to make notice of Vargas' recent Honor Flight trip to Washington D.C.
"There are not too many veterans around much anymore and this is the time to take notice and have other people aware of this gentleman's service to the country," he said.
Many people do not realize the amount of young men that have lost their lives through the military, Kinsella said. He also said that we need to recognize survivors.
"It is not to make notice at a Eulogy after they are dead and gone. It should be a recognition while they are still standing and can appreciate what we are going to do with them," he said.
Donovan explains that her father has made lifelong friends from Jerome. She said that her father believes that the Jerome mountain is special to him and that it is part of him. She said her father visits the town often because he misses his hometown.
"This honor he just received from the town has meant the world to him. He has never forgotten his town and now he knows it has not forgotten him," she said.
More like this story
SUBMIT FEEDBACK
Click Below to: