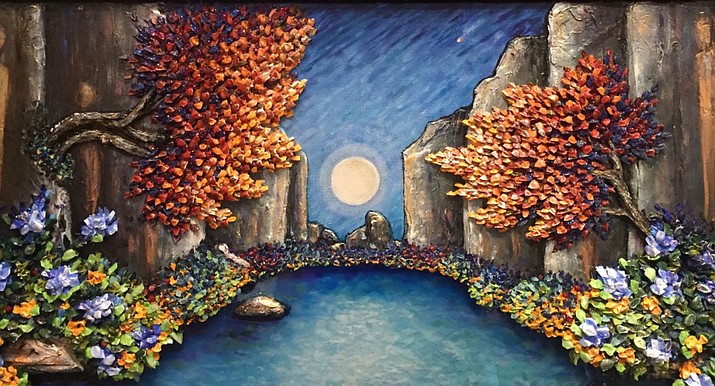 ---
---
On Friday November 3rd Goldenstein Gallery kicks off "The Women's Show" with opening reception from 5-8pm. This dynamic show features Goldenstein Gallery's female artists celebrating the feminine perspective of the visual arts, which historically has been underrepresented. Gallery owner Linda Goldenstein has been a champion of women in the arts throughout her career.
During November the art of 25 noted female artists, in a broad range of styles and mediums, will be featured in the gallery and satellite exhibits. You can engage in conversation every Saturday morning at 9:30am, through November 18th, for their Artists Coffee Talks in the Gallery. Different artists are hosted weekly with a special Sunday edition of Coffee Talks on November 5th. Check GoldensteinArt.com for a complete schedule of events.
"We were only working with 2 female artists when featuring this show 14 years ago – now we work with over 21 female artists!" says Linda Goldenstein. The women in this show have been featured in Museum shows, collected internationally and share a powerful voice and perspective with their art.
Jewelry designer Fredda Psaltis received her degree from Carnegie Mellon University in fine arts and Osaka University in Japan for traditional Japanese design. While studying Jewelry Design at CMU, she was part of the original team (William Benton and Joe Quigley) that came up with the original mood ring. Later, she studied the Kabbala and Torah in the mystical city of Safed in Northern Israel. A visionary artist, her singular "Healing Star of Peace" jewelry line is based on these teachings of the Kabbalistic Tree of Life. The result of a vision during her own healing journey, her intention is to emanate peace and healing. In her pieces each gemstone represents one of the ten Sephirot or divine emanations. The center stone represents the Da'at, the unifying element that holds the key to all of the chambers.

Ali Mignonne's stunning three-dimensional paintings have been collected internationally. Her trademark sculptural style developed by chance in the early 2000's. As she was using building compound to create a stone-wall effect in her home, she began experimenting with brick and stone effects throughout her home. Seeing that the compound could hold shape, the idea occurred to her to sculpt a floor to ceiling tree, but rather than experimenting on walls, she took her idea to canvas. After much trial and error, she developed her current technique creating multi-layered 3-D trees, rivers and images that pop off the canvas.
Psaltis and Mignonne will be featured at Goldenstein's acclaimed Artists Coffee Talks series on Saturday and Sunday at 9:30 a.m. November 4th and 5th.
For her entire life, 92 year old artist, author and poet Adele Seronde has been profoundly moved by the beauty that surrounds her and sparked by her imagination. She is considered a Sedona treasure and her paintings have been exhibited internationally. She is the founder of Gardens for Humanity.
Sherab Khandro is an intentional artist, one of the early western artists to receive formal training from Buddhist masters in exile in the US bringing forth traditional sacred art as it has been done in Tibet for centuries. Her meditative pointillist paintings, sculpture and jewelry will be featured.
Additional artists whose work is featured in this show include: Karyl Bennett, Marilyn Bos, Jourdan Dern, Mary Fisher, LauRha Frankfort, Patricia A. Griffin, Syri Hall, Dorit Herlinger, Jacqueline Jackson, Susan Makara, Carla Romero, SJ Shaffer, Sandy Terry, Beatrice Welles, Liz Wolf, Jill Anderson and Erika Wszulkowski.
The public is invited to meet these engaging artists and other local artists at the opening reception for The Woman's Show on Friday, November 3rd from 5-8pm.
For more information on artists, artwork, Satellite Exhibits, Artists in Residence & Artists Coffee Talks please visit GoldensteinArt.com. Sign up for their monthly E-zine, Instagram and Facebook or call 928-204-1765. Open daily, Goldenstein Gallery's address is 150 State Route 179, at the corner of SR179 and 89A. Voted Best Gallery in Sedona 10 years running and recently named the best place to shop in Sedona by USA Today 10 Best, Goldenstein Gallery is known for its diversity of world-renowned local and regional artists in all media and styles.