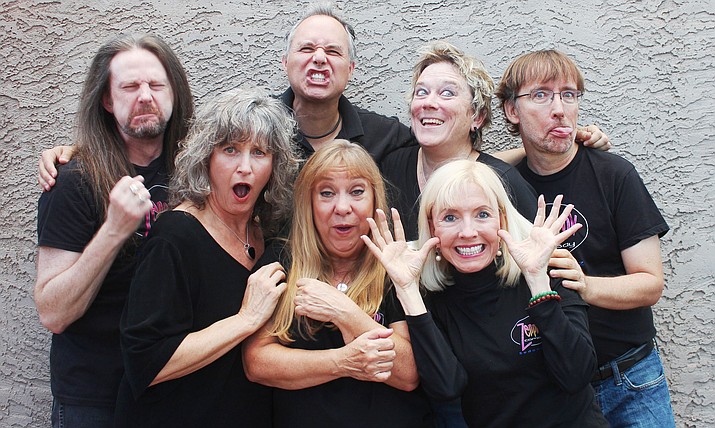 ---
---
In honor of students heading back to school, Zenprov Comedy presents "Socially Awkward" at Mary Fisher Theater on Saturday, Sept. 9 at 7:30 p.m. Tickets are $12 advanced purchase or $15 at the door.
"It's been said that 'Tragedy + Time = Comedy', so we thought we'd do a show that takes a few of those tragically embarrassing moments we all had growing up and transform them into comedic gold," said Derek Dujardin, director of Zenprov Comedy.
If You Go ...
• What: Zenprov Comedy "Socially Awkward" show
• When: Saturday, Sept. 9 at 7:30 PM
• Where: Mary Fisher Theatre, 2030 St. Rt. 89A, Sedona
• How Much: $12 pre-sale, $15 at door
For the past several months Zenprov Comedy, has been in a summer school of creation, learning and performing the art of long-form improvisational acting.
Using a single word or a phrase given by the audience, the troupe creates an entire world of characters and comedic situations to explore for 20 to 30 minutes. "Social Awkward" will be exciting mix of both tried-and-true, short-form improv and the more experimental long-form styles.
"I think our audience will notice a difference in how we play and perform, especially those who have watched us for several years now," said Dujardin. Instead of just going for the fast laugh, which is often the focus of short-form improv, long-form improvisational comedy allows actors more time to develop relationships and discover emotional truths of situations and characters. In many improv circles, it's known "finding the comedy in the truth."

"Zenprov is the best comedy troupe in Arizona," said Mr. Patrick Schweiss, Executive Director of the Sedona International Film Festival. "People were laughing so hard their cheeks were hurting."
If you've never attended one of their live performances before, Zenprov Comedy is similar to the popular improvised TV show "Whose Line Is It Anyway?" The troupe performs fast-paced games and scenes created in the moment -- always based on audience suggestions. Unlike sketch or standup comedy, nothing is rehearsed or scripted ahead of time. Best of all, it's never the same show twice. 
The Zenprov Comedy players embrace the Del Close method of improv acting, which emphasizes the "group mind" that mysteriously develops during a performance. Miraculously, the player's minds fuse together to create a "super mind" where they practically finish each other's sentences -- and often do. Laughter ensues.
Opening the show will be special guest performer and Sedona resident Dean Edelson. Dean worked as a professional, award-winning standup comic for nearly a decade before moving to Sedona and switching careers. Saturday night will be his first time returning to the stage with all new material drawn relationships, parenting, and life in Sedona.
The super minds of Zenprov Comedy are Derek Dujardin, Shaeri Richards, Chris Redish, Tom Shoemaker, Shaunn Cochran, Betty Testa, Linda Roemer and Mary Carder.


Tickets are $12 pre-sale and $15 the day of the show. Tickets can be purchased online at www.zenprovcomedy.com, or in person at Mary Fisher Theater box office or by phone 928-282-1177.

The Mary D. Fisher Theater is located across the street from Harkin's Movie Theater on 2030 St. Rt. 89A. Doors open at 7:00 PM. Shows are rated PG-13 and run approximately 90 minutes. Visit www.ZenprovComedy.com to learn more.