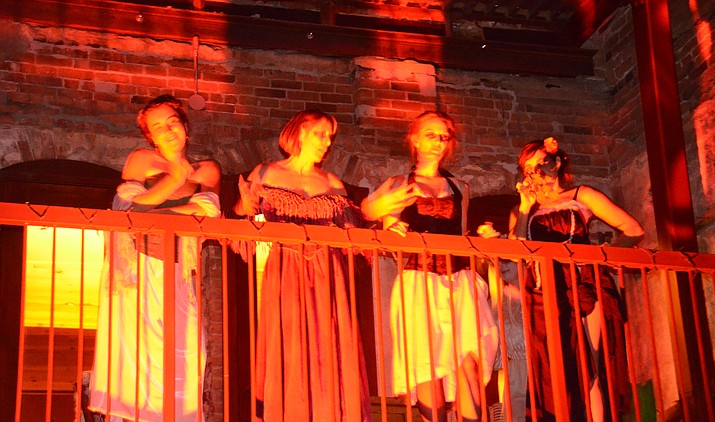 Originally Published: September 7, 2017 1:34 p.m.
Two nights of gunslingers, bordellos and murder – all in the name of a one-of-a-kind history lesson.
The Jerome Historical Society's biggest event of the year, the Annual Ghost Walk, is preparing to entertain those who make the trek to Jerome Oct. 12 and 13. This year's script was researched and written by Ann and Liz Rees. The scripts are always based on historical events that occurred in Jerome, but because script writers and actors differ from year to year the Ghost Walk is always different. This year the events depicted occurred between 1891 and 1921.
Volunteers from Jerome, Sedona, Clarkdale and other neighboring towns recreate the events. Jerome residents are given a free show – the "dress rehearsal" – and give feedback on pacing, volume and other aspects of the show.
The cast is based on who wants to be involved, not by prior acting experience or appearance. A mishmash of thirty to forty people; firemen, winery employees and real estate agents by day become gunslingers by night.
Evident in the name, the Ghost Walk is a walking show that starts at Spook Hall and the audience walks to other locations for the scenes.

"Basically, the point is to educate some people on the history of Jerome – and to have fun," said Steve Pontius, the production organizer. "If we have fun, we hope the audience has fun. There's a lot of audience interaction."
Last year the big scene was a lynching, this year includes a mine cave-in scene. The show is PG – while the organizers keep it from being too graphic they also like to be historically truthful.
"We ask around on 'who wants to write the script this year?' as long as it is historically accurate to give a flavor of what [the time] was like," said Pontius.
For each group attending shows the cap is around 50 in the audience max. This allows everyone attending to get a view of the shows. Passersby may pay to join in if they do not RSVP and there is enough room. Between six shows, approximately 700 people attended last year's Ghost Walk.
"It's a challenge, but it's always fun. We're all amateurs. We all do this for the town because we love this town," Pontius said.
Shows start every half hour 6:30 p.m. to 9 p.m. Oct. 12 and 13 (Friday and Saturday) from Spook Hall. The Historical Society highly recommends reservations. Friday is $15 and Saturday is $20. Children age 10 and under will be admitted for free. Tickets are available for purchase at www.jeromehistoricalsociety.com.