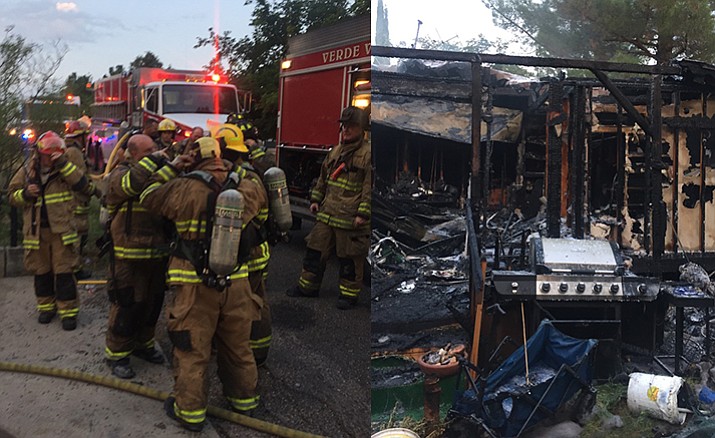 Originally Published: September 8, 2017 9:44 a.m.
COTTONWOOD – The occupants of a burning home in Verde Village were able to escape the flames early Friday before the arrival of Verde Valley Fire District personnel.
Around 4:40 a.m., VVFD responded to the residential fire at the 2600 block of Pipe Creek Drive.
According to a news release, arriving crews found small single story home with heavy smoke and flames coming from the rear of the structure.
Crews immediately went into offensive attack. It took approximately 20 minute to get the fire under control.
The tenants of the home - two men, one woman, and two dogs - were able to escape.
One man suffered burns to his hand, and the other man suffered from smoke inhalation, according to VVFD. Both were treated and transported by Verde Valley Ambulance Company to Verde Valley Medical Center.
The woman and two dogs were not harmed, and there were no injuries to the first responders, according to the release.
The fire appeared to have started at the rear of the home and quickly spread throughout. The residents had working smoke detectors.
The fire is still under investigation.
Also assisting was Cottonwood Fire and Medical Authority, Yavapai County Sheriff's Office, Arizona Crisis Team (ACT), Sedona/Verde Valley Charity Emergency Relief Program, and the American Red Cross.
More like this story