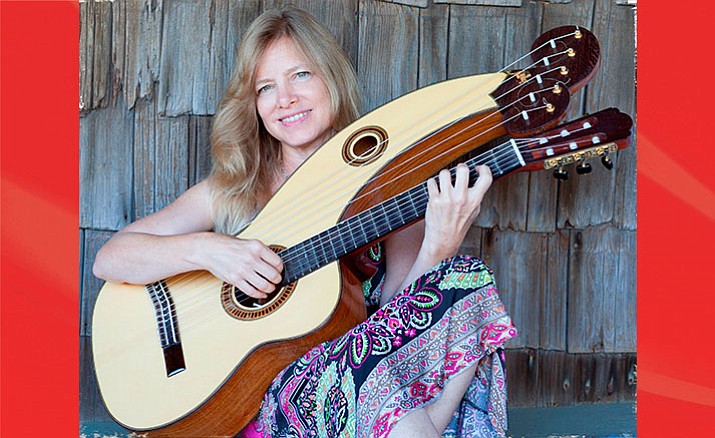 ---
---
The Old Town Center for the Arts is pleased to announce a preview of some of the upcoming performances for the 2017-18 season. International, regional and local talent will highlight OTCA's 10th year of presenting music, theater, comedy, art, entertainment and cultural events.
OTCA has the distinction of completing nine previous seasons, hosting close to 500 events drawing performing artists from every continent except Antarctica, Besides adding to the cultural and entertainment scene of Old Town, OTCA has also produced and hosted many community events devoted to education and sustainability. 
"Hard to believe this will be our 10th season," co-director William Eaton remarked. "It's always a thrill to see audiences transported through theater, live music, and comedy. Along with the performers, our volunteers and technical staff work hard to make every event a memorable and enjoyable experience."

Here are a few highlights of the coming 2017/2018 season:
CELEBRATE THE RIVER - Concert Friday, Sept. 29, 7 pm
The Friday night 'Celebrate the River' Concert will be an evening of 'river' inspired songs from local and national touring musicians, to kickoff the annual Verde River Day event that happens on Saturday, September 30th. Join some of the region's best musicians and the Mayors of Cottonwood, Sedona and Camp Verde to honor the Verde River and Oak Creek. Sponsored by the Old Town Center for the Arts and the Verde River Greenway.
KAKI KING - Sunday, October 22nd, 7:00 PM
Hailed by Rolling Stone as "a genre unto herself," composer and guitarist Kaki King is a true iconoclast. Provocative and moving, surprising and beautiful, "The Neck is a Bridge to the Body" is Kaki King at her visionary best. In this groundbreaking multi-media show, King uses projection mapping to present her guitar as a blank screen, allowing luminous visions of genesis and death, textures and skins to be cast upon her white Ovation Adamas signature guitar. Over the years the Brooklyn-based artist has released extraordinarily diverse and distinctive albums (from which B-sides & Rarities has been largely culled), performed with such icons as Foo Fighters, Timbaland, and The Mountain Goats, contributed to a variety of film and TV soundtracks including Golden Globe-nominated work on Sean Penn's Into The Wild, and played to an increasingly fervent following of music lovers on innumerable world tours.
The Steel Wheels – Saturday, November 4th, 7 PM
One of the top festival acts in the country, The Steel Wheels, bring their national tour to Old Town. The band will appear at Old Town Center for the Arts for one night only. The Steel Wheels have enthralled audiences across the country with their heady brew of original soulful mountain music. Based in the Blue Ridge Mountains of Virginia, this four piece band marries old-time musical traditions with their own innovative sound.
EHGG – Electric Harp Guitar Group – Saturday, Nov. 11, 7 pm
Visionary guitarists William Eaton, Anthony Mazzella, and Fitzhugh Jenkins join forces as the 'Electric Harp Guitar Group' (Ehgg) to perform on their unique electric harp guitars, acoustic guitars, and synthesizer guitars on Saturday, November 11th, at 7:00 PM in a special live concert at Old Town Center for the Arts. A local phenomenon with international experience 'Ehgg' combines individual virtuosity with ensemble sensibility to create instrumental compositions, drawn from transcendental world, jazz, rock and new age genres.

Dana Louise and the Glorious Birds, In Partnership with Yavapai College – Saturday, Nov. 18, 7 pm
Dana forged the beginnings of her sound, practicing amidst the Azore Islands archipelago's lava rocks and dragon trees. Back in the States, she began singing and songwriting professionally, touring regionally and internationally, and is currently touring her debut album with Trout Records. Joined by the Glorious Birds — Adams Collins (vibraphone and 5-string banjo), and Ezra Idlet and Keith Grimwood (Trout Fishing in America/guitar, percussion and bass) — Dana brings her vibrant, melodic vocals and finger picking to a body of complex songs. Drawing from jazz and bluegrass, carrying a contemporary beat, the sound is roots-rooted flung-into-the-future folk. Dana Louise and the Glorious Birds work to leave their audiences glowing with the magic music can bring: genuine human connection.
The California Guitar Trio – Friday, December 1st, at 7 pm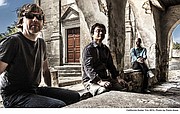 If you are up for a variety of vintage rock, tender instrumentals, a Morricone movie theme, some Dave Brubeck, even a bit of Beethoven -- all from three guitars, you won't want to miss the performance of the California Guitar Trio.
The universe of guitar knows no boundaries for The California Guitar Trio. Since 1991, the group has enthralled listeners with a singular sound that fearlessly crisscrosses genres.
The trio's questing spirit drives it to explore the intersections between rock, jazz, classical, and world music. It even throws in the occasional surf or spaghetti Western tune for good measure.
Caravan Dreams – Theatrical Bellydance Concert – Saturday, Dec. 9, 7 pm
Caravan Dreams, the annual theatrical bellydance showcase, features many of the best Middle Eastern dance artists in Northern Arizona. Come enjoy an enchanting evening and a mesmerizing journey thru traditional, classical and modern music and dances of the Orient, sure to enliven your senses with the awe, wonder and magic of the holiday season.
The Hillbenders present the Who's Tommy: A Bluegrass Opry - Friday, Jan. 19, 7 pm
Forty-five years after its original release, this classic of classic rock has now been fully realized as a full length bluegrass tribute featuring Springfield, Missouri's The HillBenders. Conceived and produced by co-founder and longtime musician/producer Louis Jay Meyers, this Bluegrass Opry brings a new perspective to Tommy while paying total respect to its creators.
MURIEL ANDERSON - Saturday, February 3rd, 7:00 PM
One of the world's foremost fingerstyle guitarists and harp-guitarists, Muriel Anderson is the first woman to have won the National Fingerstyle Guitar Championship. Currently named by Guitar World as one of 8 amazing female acoustic players, Muriel Anderson is one of the few international touring harp-guitarists. Her obvious joy of music, humor and her facility across the genres of folk, classical, jazz, bluegrass and international music is revered by guitarists worldwide.
Mark your calendars, get your tickets, and join us for these and other upcoming events at Old Town Center for the Arts. For ticket information and to learn more about the concerts, classes at Studio B and community events at OTCA please visit www.oldtowncenter.org. Tickets are available online at www.showtix4u.com, in Cottonwood at Desert Dancer and Mount Hope Natural Foods; and in Sedona at Local Juicery. Old Town Center for the Arts is located at 5th Street & Main in Old Town Cottonwood. For more information please visit oldtowncenter.org or call Elena Bullard at 928.634.0940.