Coaches' corner: Cowboy volleyball takes fourth at Ash Fork tournament
BRITNEY ARMSTRONG, Special to the VVN
Originally Published: September 14, 2017 1:59 p.m.
Ash Fork brought a great amount of growth, which we were hoping for.
The girls had times of strength and times of weakness; both we will be able to learn from. We ended up finishing 4th overall.
Pool play did not go well, as we lost every match; playing Ash Fork, Williams and Shonto. Going into tournament play, the girls beat #1 ranked team from the other pool, Joseph City (which we later lost to and was eliminated from the tournament, in double elimination to see who would progress onto either 3rd place or the championship game).
We were missing two key players; Rachel Stockseth and Carlee Oetherreich this weekend, both girls are hitters and can play either OH (outside) or RS (right side).
We struggled to find a group of 6 that worked well together. Senior Jade Oium ended up being shifted from her typical MB (middle blocker/hitter) position to OH (outside hitter), where she ended up doing an extremely stellar job.
We have not yet received All Tournament Team selections but I would be surprised not to see Jade on the list. She was aggressive and smart with her attacks and was definitely our "clutch" player.
She also kept a positive and up beat attitude, which was really great to see. Bennet Holm (sophomore) transitioned back into her setter role (where she started last season) and did a phenomenal job, considering she hasn't had any setting practice at all this season; her attacks from the RS were also great.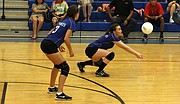 Lower-classman Maya Hedges (freshman) and Kendall Pettersen (sophomore), had a lot of confidence boosting this weekend with a great number of blocks they both received. They are both young and have little experience but are both very eager and coachable; we expect big things from them, not only this season but the rest of their time as a Cowboy.
Hannah Collins (senior), manned the back row as DS and had a great overall tournament, with both her serve receive and digging. Sara Jewell (Junior) was one of our leading servers for the weekend.
Grace Moore (senior) stepped up and once again showed her versatility and played OH (outside hitter) during our final day, as the team struggled with the loss of Rachel and Carlee. This was a position she had never played before and she was able to come in and do a great job keeping the ball in play. Allysa Matthias (senior) did a great job of moving her sets around and showed a lot of potential, while libero Lauren Ontiveros (sophomore) did a fine job in the back row, playing any back row position needed.
As a team we are still working on our confidence and being mentally tough; not allowing our mistakes to define us but to give us the fuel to work harder.
The tournament was a great opportunity for us to try news things as a team. We are excited to move into a tough week of play, where we can showcase some of the things we learned while at the Ash Fork Tournament.
More like this story
SUBMIT FEEDBACK
Click Below to: