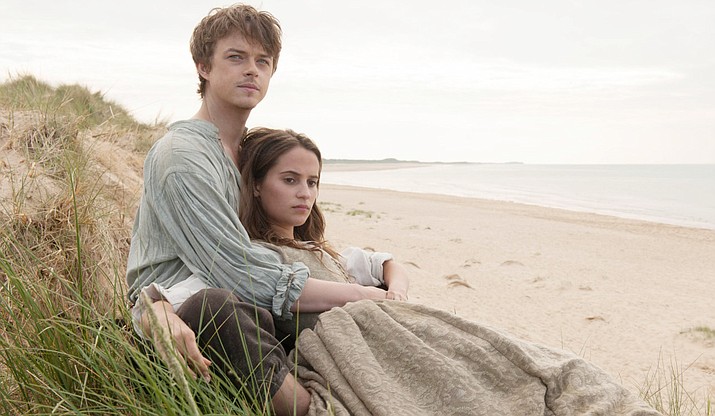 ---
---
In the Netherlands, in the early 1600s, there was a phenomenon taking place called tulip-mania. The lovely flower had been brought from Asia to the Netherlands, which was a leading economic power at that time.
It created a craze for tulip bulbs and a huge market erupted in Amsterdam. Prices for the different varieties skyrocketed for several years, and many people got rich trading in that commodity.
Eventually, around 1640, the craze faded and many of those beneficiaries ended up with many more bulbs than money — the bulb bubble had burst!
Tulip Fever takes place in Amsterdam at the height of the tulip-mania. The sights of the city are a cinematic wonder. Hundreds of people in the crowded streets, selling goods, food, seed for vegetables, and people delivering stuff to homes of the monied families. Also, servants disposing of trash, as well as sewage, into the river.
Christopher Waltz is a middle-aged wealthy merchant, Cornelis Sandwort, widowed and remarried to a much younger woman, Sophia (Alicia Vikander). He is anxious to have an heir, but it hasn't happened with either wife.
Cornelis decides that the best way to leave his name to posterity is to have a portrait painted of himself and Sophia. A prominent young painter is engaged for the task, Jan Van Loos (Dane DeHaan). Jan's attention focuses on the beautiful Sophia. She seems to ignore him, but before the painting is complete, she seeks him out in his home and they start a passionate affair.
Meanwhile we are introduced to the servant, Maria (Holliday Grainger), whose main function is the cook in the household. She receives daily deliveries from fishmonger Willem Brok (Jack O'Connell). Along with the fish, there is usually some lovemaking.
These are the principal characters among many others in Tulip Fever. The film keeps shifting between the two stories, and including several other sub-plots.
It is often hard to follow because sometimes the shift is a look back in time. But the biggest problem I found in Tulip Fever is the improbability of the scheme the protagonists devise to achieve their goals. The sets (street scenes) and the costumes are extraordinary, so we have a feeling of the ambiance and the culture there.
However, Tulip Fever is not a travelogue and so the lack of a coherent or credible story sinks the film. The actors perform well, including Judi Dench as a Mother Superior who is also involved in the tulip trade.
Tulip Fever is at Harkins Sedona 6 Theater.