Commentary: Mingus football ends September on a high note

Originally Published: September 28, 2017 3:03 p.m.
It wasn't that long ago that things looked rather dire for Mingus Union football.
The Marauders had not only started the season 0-3 but had lost in three gut wrenching ways: by blowout, on the last play after making about a dozen mistakes and then blowing a lead.
But what a difference a couple weeks makes.
Suddenly Mingus Union is not only 2-3, 2-0 in the Grand Canyon Region, but they are No. 17 in the AIA's first rankings, which were released this week.
The rankings of the other local teams are Camp Verde at No. 32 and Sedona Red Rock at No. 38, both in 2A.
After the Marauders snapped the losing streak by routing previously unbeaten Lee Williams, head coach Bob Young said they need to win the region to make the playoffs.
Actually, maybe they don't.
If they continue their climb, with their strength of schedule, they may not need to win the region. If it comes down to it though, they do have the Grand Canyon's first place team, Flagstaff (5-0, 2-0) at home.
Mingus Union hosts No. 40 Bradshaw Mountain (0-5, 0-1) on Friday at 7 p.m. and on paper it looks like the Marauders will be back to .500 soon.
If the Marauders keep winning, then they could get into the playoffs even without beating No. 8 Flagstaff.
Mingus Union's other remaining games at No. 15 Prescott (3-2, 1-0), at No. 28 Coconino (1-4, 0-1) and home against No. 5 Sunrise Mountain (4-1, 0-0 West Valley).
The Marauders are expected to get a boost when senior defensive back/running back Martin Soria becomes eligible after transferring from Williams. Soria was all-state last year for the Vikings.
Although Soria last played official games at the 1A level, he's been quite impressive in scrimmages and 7-on-7. At a practice after Soria ran through a bunch of tackles, Young said "you're not going to arm tackle him!"
Soria will join a talented backfield.
Junior quarterback Antoine Zabala leads the region in passing with 603 yards, almost 200 ahead of second place Andrew Herrera from Lee Williams.
Juniors Alex Nelson (470 yards) and Tyler Kelly (371) are third and fourth in the region respectively in rushing. Colby Fanning, 198 yards, is sixth.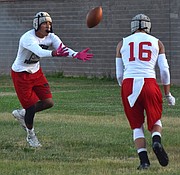 Nelson is first the Grand Canyon in touchdowns with nine and Kelly fourth with five.
Finally, Zabala is third in the region in total yards and Nelson is fifth.
Plus junior Chaz Taylor is first in the region in receiving with 347 yards.
Just getting into the top 16 likely won't be enough for Mingus Union though as it looks like the 4A Southwest and 4A Black Canyon champions' automatic bids will moved up the prerequisite to get into the playoffs.
In fact, the six Black Canyon teams combined have accounted for two wins. The two teams atop that region, Apache Junction and Combs are 1-4.
4A Gila also might not be able to produce a top 16 champion as No. 16 Pueblo is 0-2 in region play.
Still, with the Marauders' remaining schedule, getting into the top 13 or 14 doesn't seem like a stretch at all.
It's still early but the playoffs don't seem so far away.
More like this story
SUBMIT FEEDBACK
Click Below to: