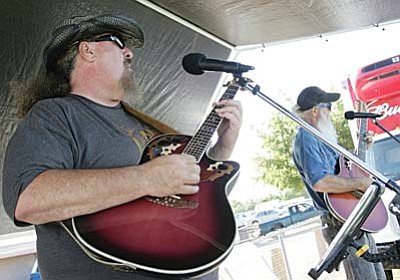 ---
---
The Grasshopper Grill, at the corner of Page Springs and Cornville Roads, this week features live entertainment Tuesday and Thursday through Saturday. Starting at 5:30 p.m., the region's most popular and talented singers, songwriters, instrumentalists and bands cycle through this locals' favorite Cornville restaurant and bar.
The entertainment week kicks off Tuesdays with $5.00 Burger & Beer joined with the relaxed style of Rick Busbea. Busbea offers up a great mix with a focus on covering favorites like Kenny Chesney and Jimmy Buffet. Here Cheeseburger in Paradise" takes on a whole new meaning. Not to be limited, however. Rick fears no genre and can be counted on to fill a wide range of requests from the furthest reaches of popular music.
Thursday, April 4th, Sutton Papanikolas returns to the Grasshopper lounge. Recently embarking on his first official solo endeavor, the San Diego Music Award-nominated singer-songwriter is a lover of all periods and styles of music. Even though his most recent efforts fit within the indie-folk and alt-country genres, the spirit of rock n' roll will always be alive and well in his songwriting, as well as his engagingly energetic live shows. Sutton is one of those performers that attracts attention, not so much by design, but by nature. With a vast repertoire, he will weave originally penned songs into his sets of faithfully covered pop, country and rock tunes.
Friday, April 6th its acoustic rock musician Tommy 'Rocks" Anderson. Tommy combines a mix of classic rock, pop, reggae, R&B and original songs along with the best of the Beatles to create truly memorable shows. Often incorporating a loop pedal into his solo acoustic shows, Tommy gets rave reviews from his audiences and is surely a performer you will not want to miss.
Saturday, April 7th Jack Couchman brings his solo performance show to the lounge. If you follow music in the Verde Valley, Jack is one of the most recognizable players around. Jack, it seems, knows and can perform on request practically any classic rock, blues, or country song ever to make it to hit status. Have some favorites of your own? Jack's got 'em.
The Grasshopper Grill is open from 11:00 A.M. to 9:00 P.M. daily, located at 1160 S. Page Springs Rd., Cornville. (92 649-9211)