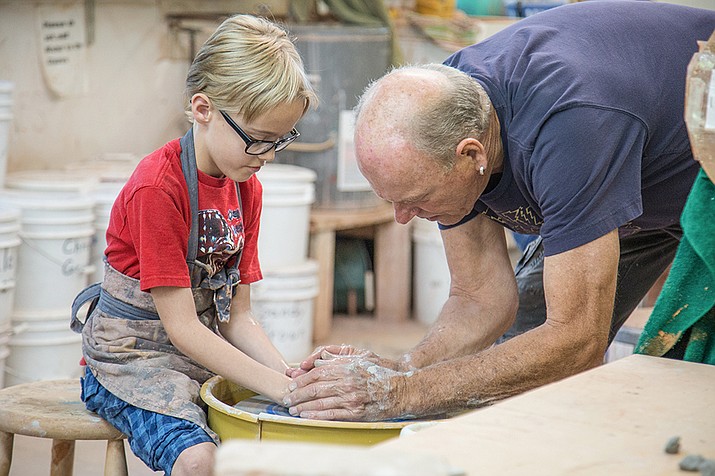 ---
---
Sedona Arts Center is Celebrating their 60th Anniversary with a birthday party and silent auction Fundraiser on Friday, April 6 from 5 to 8 p.m. in their Historic Art Barn. The party is free and the public is encouraged to join in the celebration which will feature music, wine (for the adults), appetizers, sandwiches and of course, birthday cupcakes generously provided by their Birthday Party Sponsor: Whole Foods of Sedona. The silent auction features over 100 items of original fine art, gift certificates and vouchers from local businesses and resorts and more. Don't miss the celebration on Friday, April 6 from 5 to 8 p.m. in Uptown, Sedona.
"The generosity of local business donating special items and Gift Certificates and artists donating original artwork has been overwhelming. We are also grateful to Whole Foods of Sedona for providing the food and cupcakes for the event and to Shondra Jepperson who will MC the event. This will be a grand culmination of our 60th Anniversary and it is great to have the whole community celebrating with us." says, Vince Fazio Executive Director of the Sedona Arts Center
The public is invited to preview auction items Thursday, April 5 and Friday, April 6 from 9 am to 5 p.m. in the Historic Art Barn with select items available for a special 'Buy It Now' option beginning Thursday morning. You'll have to be present to place your bids on Friday, April 6, but you don't have to be present to win. Proceeds from the Silent Auction will go to support the Arts Center's educational mission. 
The Sedona Arts Center has something else to celebrate this year as well. Dennis Ott, the Arts Center's Ceramics Department Head just won the 2018 Governor's Arts Award for Arts Education / Individual Artist. The Staff and Board of Directors are extremely proud of Dennis and Congratulate him on this fantastic achievement and wish him continued happiness and success. So, this year, they are making him the guest of honor at their Birthday Party. Be sure to stop in to congratulate him and let him know how much he is appreciated.
Sedona Arts Center has been bringing creative people together for the past 60 years. In 1956, a group of creative people decided to turn a small Western town into a place of artistic learning and creative expression—and began offering summer classes in painting, sculpture, and Native American crafts. The population of the area at that time was less than 400 people, most of whom were ranchers, orchard workers, and merchants. They shared a big dream to build a new creative community within the red rock landscape. 
 In 1958, the Verde Valley School art department head, Egyptian sculptor Nassan Gobran, and a dozen other civic leaders founded the organization that would become Sedona Arts Center. A few years later, with support from the town's small Chamber of Commerce, they acquired a former apple orchard warehouse that became known as the Art Barn in what is now Uptown Sedona. The first exhibition featured works by Max Ernst and Dorothea Tanning, and the early years included arts education, lectures, exhibitions, film screenings, language and dance classes, and live theatre.
Throughout the 1960s and 70s, the barn and Arts Center became a genuine hub of creative activity, artistic develop.m.ent, cultural events, and community-building. Now six decades after the first arts experiment, channeling the same bold and fearless dream of creative community, the Arts Center continues their commitment to creative place-making in Sedona. They know the power of creative people, unexpected collaborations, togetherness, and efforts that express cultural identity.
 Today, the Arts Center keeps that tradition going and operates an expanded campus, a fine art gallery that represents over 100 local artists, and a School of the Arts that offers over 200 classes and workshops each year. The modern-day Sedona Arts Center also presents innovative collaborative projects like the Business of Art Series, Loving Bowls, Sedona Legacy Artists Exhibitions, Sedona Plein Air Festival and, in partnership with the Verde Valley School, the Sedona Summer Colony.
 Sedona Arts Center is one of Northern Arizona's most well-established cultural organizations and serves as the creative heart of Sedona. Founded in 1958, the nonprofit organization is based at the Art Barn in Uptown and offers year-round classes, exhibitions, festivals, and cultural events that enhance the creative life of the Verde Valley. The Center's Fine Art Gallery, open daily from 10 am to 5 p.m., promotes the original works of over 100 local artists and regularly offers special assistance for collectors and art buyers, offers private studio visits, and fosters hundreds of arts education opportunities each year. For more information, call Sedona Arts Center's Administrative Offices at 928-282-3809, the Fine Art Gallery at 928-282-3865 or online at SedonaArtsCenter.org.