A closer look: Clarkdale's Phoenix Cement Plant (with photo gallery)

By
Halie Chavez
|
@haliephoto
Originally Published: April 3, 2018 1:49 p.m.
Photo Gallery
Phoenix Cement Plant
Where to learn more
Don Godard and Chris Nelson will be giving a free in-depth lecture on the history of the Clarkdale Cement Plant on April 11 at the Sedona Heritage Museum.
CLARKDALE – The Salt River Materials Group Phoenix Cement Plant has been on the Verde Valley horizon for almost 60 years.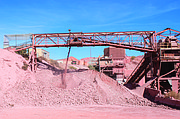 The plant was built in 1959 by American Cement Corporation after the company was awarded a contract to supply materials for the Glen Canyon Dam near Page, which was being built by the U.S. Bureau of Reclamation.
In pursuit of limestone reserves in Arizona, the company zeroed in on the Clarkdale location to supply the project.
As most of the supply went to the Glen Canyon Dam, the plant also began to supply the Phoenix market. The business led to the longevity of the plant, operating to this day.
The original plant consisted of two kilns with the capacity to produce 400,000 tons of cement a year. As the plant became busier, a third kiln was added in 1960, bringing the capacity up to 600,000 tons a year. In 1972, another finished mill was added to the plant.
The plant has changed ownership several times and was bought by the Salt River Pima-Maricopa Indian Community. It operates under the name Salt River Materials Group.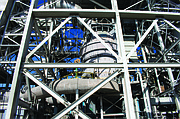 Modernization of the plant was completed in 2002, the plant seen today. The three kilns were replaced and a new raw mill was added. Cement production was doubled to 1.2 million tons a year. However, the plant is currently producing between 700,000 and 800,000 tons a year, as the "market's been soft since the recession," said Gregg St. Clair, vice present of cement operations.
Today, most of the 3600-acre plant's business is the Phoenix metropolitan area and Arizona, as well as Mexico. The plant employs 136 people, predominately from the Verde Valley and Prescott.
More like this story
SUBMIT FEEDBACK
Click Below to: