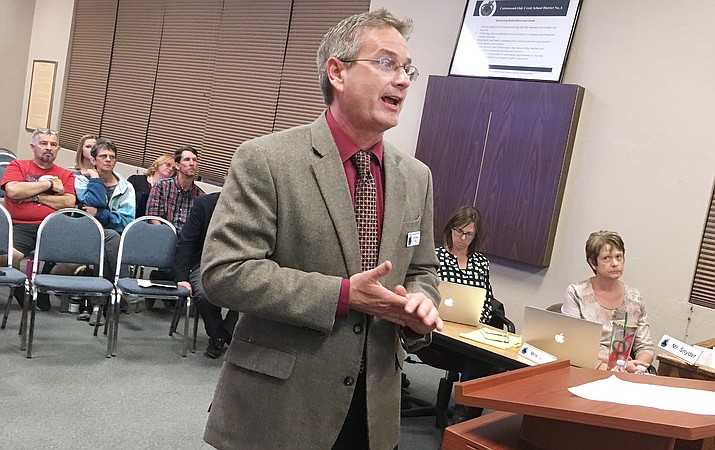 Originally Published: April 5, 2018 2:26 p.m.
Cottonwood — Tuesday, the Cottonwood-Oak Creek School Board voted 4-to-1 to give Steve King a one-year $98,000 contract to remain as the district's superintendent through the 2018-2019 school year.
In executive session, the board spent more than an hour discussing the contract before it returned to regular session to vote.
"I'm very pleased to continue here at Cottonwood-Oak Creek," King said. "I'm surrounded by amazing people doing amazing things for kids, their families and the community."
With a "perception" that the district "feels like it's at odds the past nine months," C-OC Board Member Jason Finger voted against offering King the contract.
"We've worked for years to take five different campuses with their own priorities and ideas to a single school of thought, one district and one culture," Finger said. "I look back and I say 'what's happening? What's changed?'"
According to Lucy Melendez, the district's payroll specialist, King is "one of the best influences that this district has had."
"Mr. King brings a unique approach to our district," Melendez stated in a letter to the Cottonwood-Oak Creek School Board before its vote. "Everywhere he goes he promotes leadership, accountability, team building, and a sense of respect for everyone. He has made it very clear to everyone within the district that the success of children and their families are of utmost importance."
King's new contract will include expanded health benefits for King's family.
But it did not include a pay increase.
"I didn't ask for [a raise]," King said. "I feel that I am already adequately compensated."
In his first year as district superintendent at COCSD, King initiated a plan for realignment of three of the district's schools – Dr. Daniel Bright Elementary, Cottonwood Elementary and Cottonwood Middle schools – into two K-8 schools.
King, in his third year with C-OC, began his tenure as assistant superintendent under Barb U'Ren, who retired in June 2017 after 10 years as superintendent and 34 years with Cottonwood-Oak Creek.
-- Follow Bill Helm on Twitter @BillHelm42