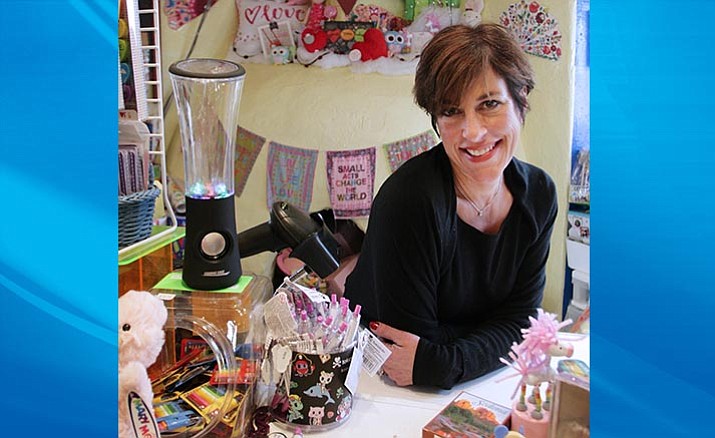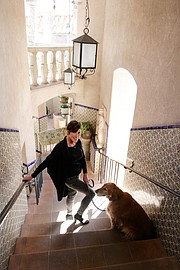 It was 20 years ago – not quite today – that Wendy Lippman's father called for help.
He had just bought the Tlaquepaque Arts and Crafts Village in Sedona, and asked his daughter for "support and assistance," she remembers.
At the time, Lippman was a New Yorker, living in Manhattan and working as national sales manager for the footwear division of Tommy Hilfiger.
Originally from Los Angeles, Lippman was spending more time boarding, sitting in, and exiting airplanes than she would spend outdoors. A native Californian, Lippman admits she was "burning out."
"The first day I came here. Wow!" said Lippman, now Tlaquepaque's resident partner and general manager.
Lippman is responsible for the site's accounting, marketing, leasing, event planning and property maintenance.
Happy to be in the sun, and in Sedona, Lippman said she is "proud to be an owner of what the community refers to as the Art and Soul" of the community.
With her dog Floyd at her side, Lippman is hands-on management for the site's many tenants, of which she is one.
"Tlaquepaque Toy Town allows me to use some of my creativity," said Lippman, a graduate of Washington University in St. Louis, Missouri, with a double major in French and art history.
Her shop away from the office, Toy Town is "another reality check to see what is happening in our market place as well as offers a wonderful and creative diversion."
"Instead of being the artist, I'm the lover and appreciator of arts," Lippman says.
Recently, Applause sat down with Lippman to ask her a few questions about her life at Tlaquepaque.
Applause: Describe the present business model for Tlaquepaque and how has that model changed over the years.
Lippman: Retail continues to evolve, and like all things in life, has its shares of ups and downs. Put the brick-and-mortar issues aside for a moment, we need to acknowledge that Sedona is an extremely unique and desirable destination and we absolutely benefit from our location.
Branding Tlaquepaque, the merchants and Sedona is a huge key to our success. We are fortunate enough that Tlaquepaque was constructed in the 1970s, and I embrace our history and heritage.
Although it is vital to remain vibrant, interesting and unique, I believe in being authentic to our history and legacy: how Abe Miller, the true visionary, developed Tlaquepaque.
It is his dream that I have adopted and make it my personal challenge to remain authentic yet be a stand-out in the crowd destination.
So, I try and make it a goal to tap into our senses: sight, smell, taste, sound and touch. Tlaquepaque is a visual architectural masterpiece that would be challenging and expensive to recreate.
I have an amazing crew who manicures, manages and landscapes the property - more eye candy - and of course, we have the amazing sounds of musicians almost every day performing and playing for the public.
I believe it is hard to not meander through the property and smell the amazing aroma and food float from one courtyard to another. Lastly, with all the arts and amazing products in the stores to touch and feel, we kind of have it all.
Our model has also thrived because we don't have the Big Box shops, nor do we want them. We love our small, tiny little shops of treasures and unique one-of-a-kind items.
Tlaquepaque means the "best of everything," and that is what I try to find, try to harness here at Tlaquepaque. Merchants must do their best to keep it fresh, get involved and EVOLVE!
Tlaquepaque is challenging to categorize as a shopping mall. After all, we have a gorgeous, intimate Chapel on the property - we celebrate folks who want to create a union ... it is a wonderful dimension to the shopping experience.
Applause: What are the special community events offered every year at Tlaquepaque Village? How and why is community event planning integral to the business success at Tlaquepaque?
Lippman: I believe and have always said that Tlaquepaque is appreciative and thankful for our community. Tlaquepaque wouldn't be the pillar of stability and excellence without the support of our community.
We need our locals and I think they need us, too.
We do host a series of annual and community events throughout the year. Some ooze tradition like our Annual Lighting of the Luminarias, which will be 47 years old this year ... wow! Highly popular and I believe a local favorite, it's free, it's beautiful and we get to celebrate our local musicians and friends.
We host the events because we want to give back. We want the locals to embrace us and not think we are a tourist trap.
Hosting events helps keep Tlaquepaque on everyone's radar and hopefully the events are intriguing enough that folks who are visiting will get off the couch and come see what it's all about. Even if they just show up to listen to Gaetano in Patio de las Campanas weeknights in the summer and fall.
Even if they don't spend a penny, we hope to have created a positive memory and a place that they want to come back and return with friends and family.
Applause: What is a typical day like as the Resident Partner & General Manager for Tlaquepaque?
Lippman: Unpredictable and always different. Thank goodness, because it would get truly stale if it didn't keep changing after 20 years.
Applause: What is the best thing about being the Resident Partner & General Manager for Tlaquepaque?
Lippman: The best thing about being a GM for Tlaquepaque, probably that I get to work in one of the most beautiful destinations in the world, and one of the most beautiful man-made wonders in the country – Tlaquepaque.
I have a deep passion for protecting this place – the merchants and for all to be successful.
Applause: What is the hardest thing about being the Resident Partner & General Manager for Tlaquepaque?
Lippman: Don't take it all so seriously or personally. And yep, it can be hard and difficult. Sedona is a roller coaster of personalities, and sometimes it's just hard to make everyone happy and maybe it's not even possible.
So, we do the best we can. Try to follow the rules set forth, and be the best we can be each day, with integrity and hopefully a smile.
More like this story