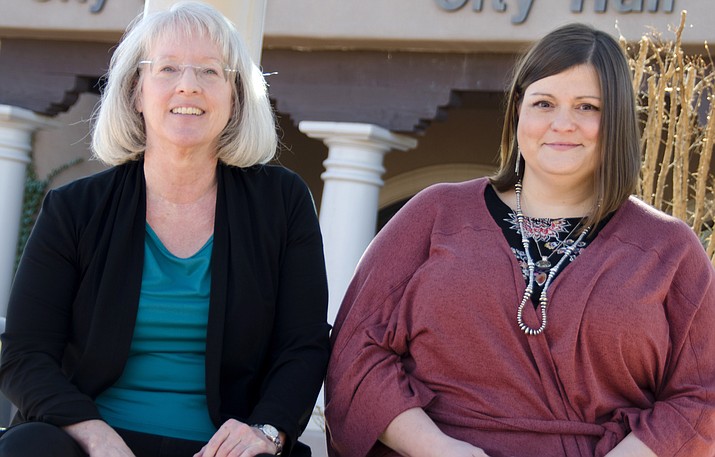 Where do you go for help
The Sedona Economic Development Department exists to help businesses create and keep jobs in the community.
For more information on revolving loans, education, or other business support resources, contact Molly Spangler, director of Economic Development, at 928-203-5117 or email mspangler@sedonaaz.gov.
"With a wealth of resources and support for small business, the City of Sedona and its regional partners are here to help your business succeed," said Spangler.
City of Sedona Community Development
-permits, certificate of occupancy, building inspections, parking, signage
Contact info:
Audree Juhlin
928-204-7107
ajuhlin@sedonaaz.gov
102 Roadrunner Dr., Sedona, AZ 86336
sedonaaz.gov
City of Sedona Financial Services
-business licensing
Contact info:
Marsha Beckwith
928-204-7185 ext. 2
mbeckwith@sedonaaz.gov
102 Roadrunner Dr., Sedona, AZ 86336
sedonaaz.gov
America's SBDC
-startups, existing business, counseling, classes
Contact info:
Kathie Teal
Kathie.teal@yc.edu
928-649-4580
601 Black Hills Dr., Clarkdale, AZ 86324
yc.edu/sbdc
Verde Valley Regional Economic Organization
-Small business loans, business assistance
Contact info:
Mary Chicoine
administration@vvreo.com
928-300-1640
PO Box 57, Cottonwood, AZ 86326
vvreo.com
Sedona Chamber of Commerce and Tourism Bureau
-networking, membership, data and demographics, marking and advertising
Contact info:
Teri Ruiz
truiz@sedonachamber.com
928-204-1123 Ext. 120
45 Sunset Dr. , Sedona, AZ 86336
sedonachamber.com
SCORE
-startups, existing business, counseling and mentors
Contact info:
Wade Bell
jwadebell@gmail.com
602-792-5812
45 Sunset Dr. , Sedona, AZ 86336
northernarizonascore.org
NACET
-startups and scale ups, counseling and mentors, access to capital, membership, facility
Contact info:
Scott Hathcock
shathcock@nacet.org
928-213-9234
2225 N. Gemini Rd., Flagstaff, AZ 86001
nacet.org
NACOG
-workforce assistance, labor market data, job/skills training
Contact info:
Leah Cickavage
lcickavage@nacog.org
928-778-1422
221 N. Marina St., Ste 201, Prescott, AZ 86302
nacog.org
Local First Arizona
-startups, existing business, networking membership
Contact info:
Ruth Ellen Elinski by appointment
ruthellen@localfirstaz.com
602-956-0909 Ext. 4
735 N. Main St., Cottonwood, AZ 86326
localfirstaz.org
Sustainable Economic Development Initiative Northern Arizona
-exiting business, micro loans, startups, counseling and mentors, sustainability, classes
Contact info:
Eric Marcus
eric.marcus@narbha.org
928-233-8667
616 N. Beaver St. , Flagstaff, AZ 86001
sedinaz.org
"I love my job," said Molly Spangler, director of Economic Development for the City of Sedona.
She really does.
Spangler, along with a dedicated team, work to make business dreams come true through a flow of resources and partnerships.
"What we do is we create the solid foundation for those dreams so that those dreams don't go 'poof.' That they become real," explained Communications Manager Marty Macurak.
Programs and events
Sedona continuously works to add more economic accomplishments each year. Spangler said the big one for 2017 was the start of the Economic Gardening Program.
"Economic gardening is an economic development model that focuses on entrepreneurs and small businesses to help expand the local economy," she explained.
The team looks at who is already here, and works to get them to grow, expand, and be sustainable.
"So we are looking at a small business over here and small business over here. And maybe this person needs access to market research, or financial planning resources. This one over here maybe needing just a small business development loan," she expanded.
Spangler is also proud of honing in on key regional and state partners that are dedicated to helping small businesses.
If you are looking to learn more about networking or having access to a small business loan, these partners can tell you the different resources that are available.
Launch Pad is another program added to the dream maker artillery.
Launch Pad is a two and a half-day course comprised of a small, intimate group of about 12 businesses. They attend to build their value statement and make an outline of what their business looks like. A few of these courses were held over the year.
"We were able to engage local existing businesses and business experts who give really good feedback to these startup businesses," said Spangler.
Macurak, who popped in to watch a Launch Pad event, described it as exciting. The program goes over the fundamentals of running a business in a fiscally sound way with an eye toward understanding customer needs, she explained.
For two business - in totally different sectors- to build partnerships between each other in their own network groups to support each other "is powerful," said Spangler.
Business loans
The economic development director also serves on the board of the Verde Valley Regional Economic Organization.
The organization promotes the Verde Valley economy and offers a small business loan program.
Spangler became chair of the loan committee this past year.
"We have been really promoting this loan and built our loan portfolio quite a bit over the last year. Really excited about that," she said.
The loan does a couple of things for Spangler and the economic development program.
If someone comes in and doesn't have a business plan or hasn't fully vetted their idea, Spangler can direct them to the right resources and the information they need to become a viable borrower.
"It's a smaller loan. It's a minimum of $25,000. A typical amount is around $50,000. We don't compete with the banks. So, if a business can borrow from a local bank, then we want them to do that. But a lot of times, these smaller businesses, maybe they are starting up, or they're expanding, they're a little more high risk, they're in a sector, you know, where banks are a little shy to engage in, so that's where we come in," said Spangler.
It's a revolving loan fund. The team wants to see those funds repaid back in three or four years so they can revolve it out to the next person.
Workforce challenge
A thriving economic environment is not without its challenges though.
"I think the biggest issue, and the second biggest, and the third biggest is workforce, workforce, workforce," said Spangler.
"When I talk to businesses, I want to make them aware that workforce is a challenge here. I want to make sure they know what the challenges are. And how they are building it in their business plan to address that challenge. I think that's about the toughest thing," she said.
Accessible housing affects the workforce, and is an issue not only impacting Sedona, but Northern Arizona.
Transportation is another one.
"Another thing I work on is workforce training and trying to leverage those partnerships with Yavapai College and NACOG, to bring those training opportunities," she said.