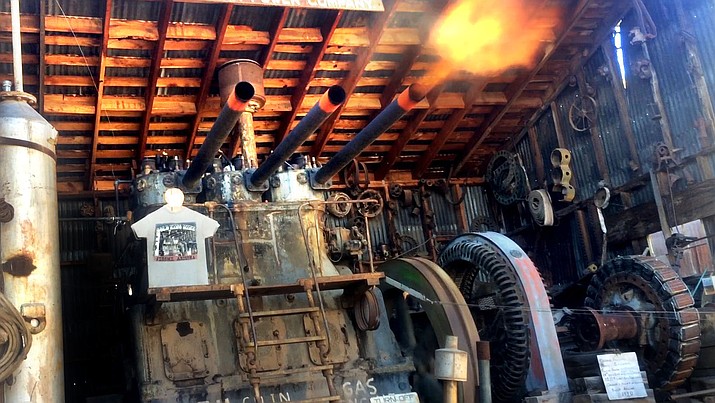 Originally Published: April 10, 2018 2:07 p.m.
JEROME -- Don Robertson is smiling in his race car in the sky as Big Bertha is again roaring above the hills of Gold King Mine.
"Big Bertha" is a Chicago Pneumatic Generator that was hauled by Robertson to Jerome from the Bagdad Mine almost 30 years ago.
Robertson passed away two years ago, but his dream lives on as his family continues to run the Gold King Mine & Ghost Town. Robertson was the creator of the Gold King Mine, which sits about a mile above Jerome
The family has been combing through and slowly restoring some of the hundreds of antique vehicles and motors on the property, including one of Robertson's biggest show pieces, Big Bertha.
Robertson's grandson, Garret Leffew, said they finally got Big Bertha working again and they were excited that they were keeping up his grandfather's legacy.
"She was down for about six months," explained Leffew. "She was a backup generator at a Bagdad mine, and in 1990 my grandpa brought her up."
"Most of everything on this property runs, and it runs really good," he adds.
Leffew explained that when he puts Big Bertha on compression release, gives it fuel, the exhaust coming of the pipes causes the thunder sound. This makes the mine's most popular attraction shoot flames and backfire, thrilling onlookers.
One of the other big attractions at the mine is a 42-inch saw-blade attached to a1914 Witte 30-horsepower industrial gas engine that cuts lumber for planks. Leffew said he has just finished fixing the Witte and getting it operational again.
They have also restored the Gibson gyratory gold mill crusher used for crushing ore to get gold, explained Leffew,
The family is working hard on other exhibits that will fit in with the mining history at the Jerome attraction, Leffew said.
Jeannie Leffew, Robertson's stepdaughter who is current owner and manager of the mine, said the attendance at the mine "is as busy as it's ever been."
They had their busiest December ever since Robertson, and Jeannie Leffew's mother Terry Robertson, started the Gold King Mine and Ghost Town 30 years ago. 
They are restoring other machines and vehicles and working on exhibits that will demonstrate mining techniques and the processing of copper and gold ore.
The property contains a gold mine opening and Leffew wants to focus some more exhibits on the mining aspects of the area.
"It feels real good. We're definitely keeping his dream alive," Don's grandson, Garrett Leffew said. "A lot of his equipment is from America's history of simple ethics of working hard and the simplicity of hard labor."
You can see Big Bertha at the Gold King Mine and Ghost Town in Jerome or at video on the Verde Independent web page or on Youtube at https://youtu.be/1pNRE87Ci-8