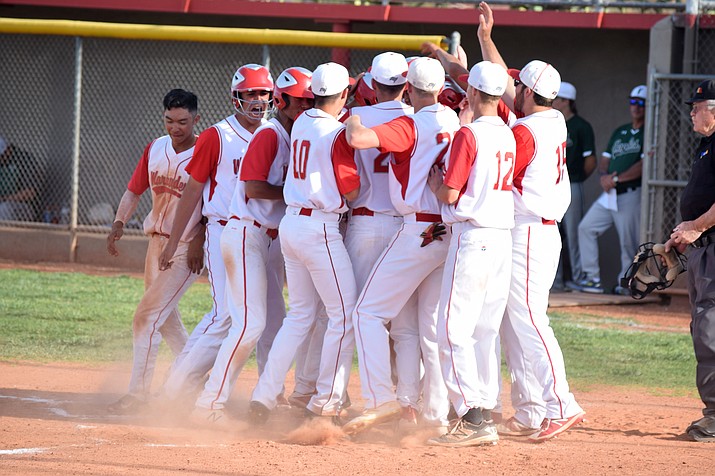 Originally Published: April 12, 2018 1:47 p.m.
Mingus Union baseball overcame an early deficit to run rule Flagstaff.
On Tuesday at home No. 10 Mingus Union (13-4, 6-1 Grand Canyon) beat then No. 4 Flagstaff 14-4 in five innings.
The Marauders trailed 2-0 and then 3-1 in the first couple of innings.
"It was just an all around team win," said Mingus head coach Erick Quesada. "We got our backs against the wall early, we definitely hurt ourselves with a couple errors, but it shows a lot about my kids how they responded and they didn't let that get to them. So overall it was outstanding, I couldn't be more proud of my guys."
Junior Justin Tanner pitched a complete game three hitter. Meanwhile the Eagles used four pitchers.
Flagstaff dropped to No. 8 in the rankings.
"It's huge for rankings, just for the team really, it shows we know we can play, we know we can beat them with one pitcher and with the pitchers we have we know we saved a lot, sticking to Justin, but it was really good, we kept confidence in our self, just kept playing the game we loved," said senior catcher Justin Link.
With Flagstaff up 3-1 in the second inning, the Marauders responded with crooked numbers in every one of their at bats, including three runs in the second and third innings and five in the fifth to finish off the Eagles.
Senior Martin Soria got the walk off RBI with a hit deep into the outfield with the bases loaded and the Marauders needing only a run to initiate the mercy rule.
"It felt really good," Soria said. "I'm still disappointed in myself cuz of the beginning of the game because they could've went different ways, but overall I'm happy I got the winning hit but overall my team did good as a team, we played all together and we had fun, we just gotta keep it going."
The win came after the Marauders dropped their first region game, 4-3 last week at No. 17 Coconino.
Quesada said that loss helped the Marauders start their current run. They have won four of their last five since the loss,
"I think it kinda started with our last loss to Coconino, it was more of a gut check to us and it was how are going to respond when things aren't going our way," Quesada said. "Against Coconino it went the other way but this was really testament to our guys saying that 'we're gonna do whatever it takes to get to what we need to do' and they really, really responded well."
Although the Marauders had already taken the lead, 4-3, they credited Link's three run home run in the third inning with helping to build momentum.
"That was massive, it was just something that our guys needed," Quesada said after the game on Tuesday. "That was a big momentum change, that got J.T. going for the next inning, that got our defense going and even right now, once we broke out, they were just like 'let's play the second game right now' and they're excited."
Link and sophomore Chris Mathe led the way with three RBIs and senior Angel Betancourt drove in two.
Since their game at Coconino, the Marauders went to the Wolves Classic at the Goodyear Baseball Complex. They beat 3A No. 21 Snowflake 13-1, 3A No. 17 Lakeside Blue Ridge 13-4 and 6A No. 22 Phoenix Trevor G. Browne 5-4 before losing 3A No. 2 Tucson Sabino 10-0.
"The tournament went well We went 3-0 and then we went to the championship bracket, we ran out of pitching obviously, but we saved our guys for Flag and the rest of the region, but it was definitely a gut check as well against Sabino, they run ruled us, but like I said, it's a testament to those guys, coming back on a short day's rest really, two days and then coming back and putting a run rule against the fourth ranked team in the state, so it really means a lot," Quesada said.
Link said the tournament allowed the Marauders to get some more experience.
"It went really well," Link said. "We played some decent teams, it was more of a practice tournament for us, just to get more playing time, more at bats, more pitching, get some more pitchers on the mound, so I feel like it helped us out a lot coming into these last couple of region games."
The Marauders' next game is Monday at No. 13 Prescott. Their next home game is Apr. 23 against Prescott.
With five games to go, the Marauders sit atop the Grand Canyon Region thanks to win over second place Flagstaff.
"I shouldn't say this, but I hate Flag (laughs) but it was a good game," Soria said.