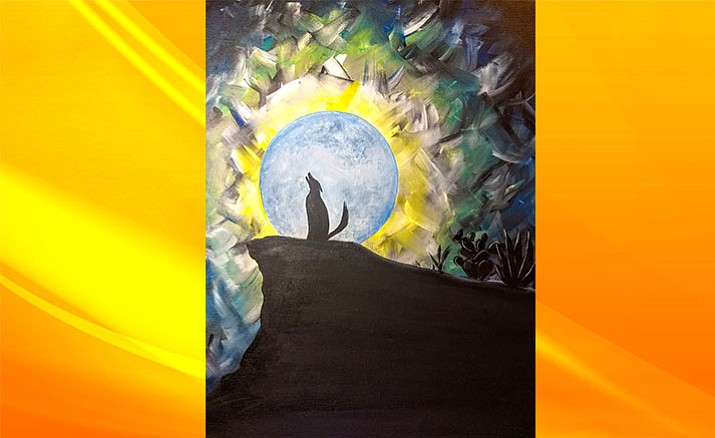 ---
---
Here at Paint-N-Party, we're all about having fun. That's why we would love to see you at our events this weekend.
Paint-N-Party is hosted at Epiphany on Pima—a restored, mid-20th. century church in historic Old Town Cottonwood. Now that your days are longer, the sun streams gently through the windows, gracefully illuminating your canvas as you create your masterpiece. Each event is guided by a local, professional artist who will show you the techniques you need to paint your rendition of the featured painting. The best part? You get to take your painting with you—which you can hang on your walls at home or give as a gift. (After all, isn't it about time you gave your mom a piece of art showing you have increased your artistic skill set beyond that stick figure drawing on her refrigerator?
If You Go ...
• What: Paint-N-Party
• When: April 20 and 21 at 6:30 p.m. April 22 at 3 p.m.
• Where: 3 Kings Kasbar & Epiphaney
• How Much: $35 admission includes all art supplies
• More Info: (928) 639-4433 or info@3kingskasbar.com
This weekend, you are invited to come paint an elegant feather (on Friday, April 20), an Arizona coyote howling at the moon (on Saturday, April 21), or Flagstaff's snow-capped mountain peaks (on Sunday, April 22). Or join us and paint all 3.
On Friday, our professional artist will teach you how to paint these delicate, wispy brush strokes to create your version of this elegant feather.
On Saturday, paint your replica of this iconic Southwestern scene: an Arizona coyote, head tilted back, howling at the silvery, full moon as it lifts into the blue velvet of the night.
On Sunday, take a hike to our art studio where you can paint this hike into the beauty of Flagstaff's mountain peaks.
Your Paint-N-Party event admission includes all the art supplies you need, the canvas (which is yours to keep), and one luscious libation of your choice (a craft cocktail, a glass of wine, a mug of beer, or a non-alcoholic beverage). We've found that the libations accelerate your 2.5 hours of fun.