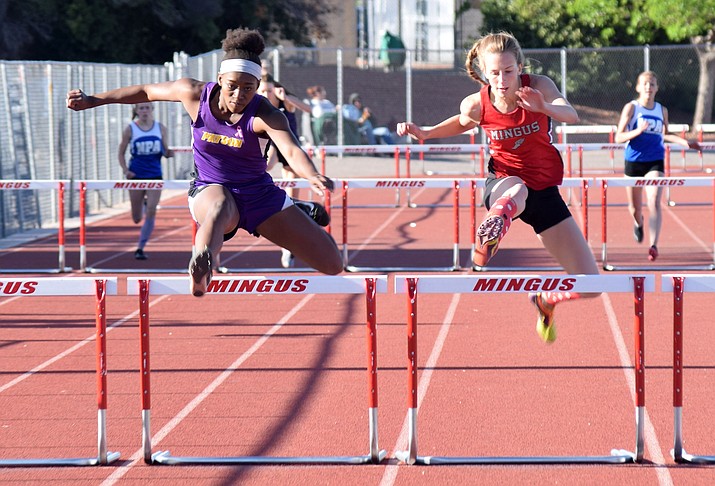 Originally Published: April 14, 2018 2:43 p.m.
Mingus Union track and field hosted its only home meet of the season and senior night on Friday, picking up some personal records along the way.
On Friday afternoon the Marauders held the Mingus Invitational. The meet featured Camp Verde, Northland Prep, Hopi, Payson, Mayer and Sedona Red Rock as well.
"I think it was great, very successful for us as a team," said Mingus head coach Molly Westcott. "Hosting a meet, I think it went really well, it's kinda hard when we're hosting to see every race but I heard about quite a few PRs out there. So overall it was successful for us, it was nice to be at home, the kids were more comfortable, usually they run better out here, other than the wind it was good."
The meet featured high winds but the Marauders didn't let it slow them down.
"Considering a few different races, I think it was quite a big factor," Westcott said. "I haven't looked at the wind readings yet to see if it will affect any qualifying times, but I think it was factor. I think a couple of races we could've timed a little bit better had the wind been a bit less but just move on to next week, hopefully it will be a little bit better in Bradshaw (laughs)."
Photo Gallery
Mingus Invitational 041318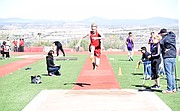 Mingus Union track and field hosted the Mingus Invitational on Friday. (VVN/James Kelley)
Westcott said mainly it's been familiar faces leading the way for the Marauders. The boys 4x400 relay team has improved their times lately though.
"Each of our relay teams have been doing well, we're just working on getting them better qualifying times and then our usual culprits (laughs)," Westcott said.
It was senior night for four Marauders: Hannah DeVore, Jonathan Jung, Katelyn Prouty and Jayla Santiago. They held a ceremony for them during the girls 3200 meters.
"This is the first time I think that track has done a senior night, so that was something that I wanted to do," Westcott said. "Luckily we're only losing four of them but we're losing a lot of talent with them. They've been so successful in the field and in the classroom, so it will be hard to lose them but we're trying to find some people to fill those roles."
Up next for the Marauders is the Bradshaw Mountain Invitational on Saturday, followed by the Red Rock Invitational on Apr. 24 to close out the regular season.
"Two more opportunities to qualify, get some better times out there," Westcott said.