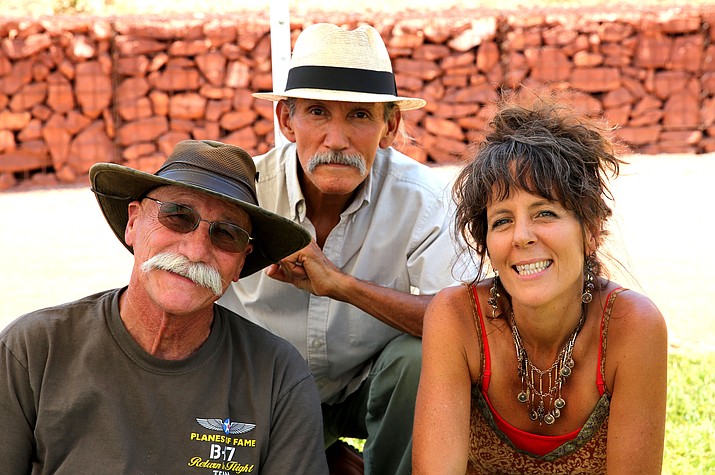 ---
---
Vino Di Sedona is the place to be to hear live music seven nights a week. On Wednesday, April 18, 7-10 p.m., August West will be playing all your favorite classic rock tunes and some newer hits too. August covers songs by The Beatles, The Stones, Van Morrison, America, Simon and Garfunkel, Tom Petty and many more. August is best known for performing with his band, American Beauty.
Weekends start early at Vino Di Sedona. Listen to amazing, upbeat music by guitarist/singer Tim Young on Thursday, April 19, 7 to 10 p.m. Before moving to Sedona, Tim had a thirty-year music career in NYC where he performed hundreds of shows and released three CD's. He was raised in the heyday of AM top forty radio and the Folk music boom, his inspirations are everyone from Bob Dylan, Joan Baez and Arlo Guthrie to The Beatles, Sex Pistols, Ramones, Cars and Nirvana.
Instrumentally, Tim is a stand out rhythm guitarist, both acoustic and electric. He has composed music and songs for TV and several independent films. Tim's lyrics are inspired by personal relationships, politics, the bar scene, and the music business.
Don't miss Sedona's best rock trio, Saffire, at Vino Di Sedona on Friday Night, April 20, 7-10 p.m. Saffire is a straight-up quality Rock & Roll trio with a wide and far-reaching repertoire. Their sound is authentic and driving; featuring complex rhythms, soulful melodies and spirited grooves.
Saturday, April 21, brings three of Sedona's most loved and talented musicians to Vino Di Sedona, Darius Lux, David Harvey, and Saith. Music begins with Wine Tasting and international singer-songwriter Darius Lux, 3:30-6:00 p.m.
Darius is an award-winning artist who specializes in classic, uplifting pop with soulful vocals. Lux plays classic covers from Van Morrison to John Mayer, and his original songs connect with the heart through inspiring themes that range from empowerment to romance. For more information visit dariuslux.com.
Saturday night brings music by David Harvey and Saith (Nathan Gangadean). David performs classic rock covers and originals, including songs from his CD "Ten Years Running." According to David, "Music is a catalyst of expression, it can touch you, but you cannot touch it. Experienced only through the moment of sound. What music means is still yet to be discovered."
David and Saith will also be joined by David's son, Luke Harvey.
Dan Vega takes the stage at Vino Di Sedona on Sunday-Funday, April 22, 6-9 p.m. Singer/songwriter, guitarist, and producer Dan Vega hits soft and hard with his unique blend of soulful singing, conscious rap, and blues-tinged guitar work. Dan draws his energy from years of classical and jazz saxophone training and performance, cutting his teeth as a guitarist in the Buffalo, NY and Austin, TX blues scenes, and as a featured performer aboard cruise ships across the Caribbean. Now residing in beautiful Sedona, Arizona, Dan is focused on a full-length studio release and performances across the Southwest U.S. and beyond.
Alex Ogburn brings his highly diverse, entertaining acoustic show to Vino Di Sedona on Monday, April 23, 6-9 p.m. Alex's music career has taken him from Birmingham, AL to Orlando, FL and finally to Sedona.
Sedona's best Open Mic night is hosted by Dan Rice on every Tuesday, 6-10 p.m., at Vino Di Sedona. Each musician is allotted an amount of time, or a number of songs, and every week brings a variety of new talent along with regulars like KB Bren, Jim French, Rick Busbea, Randy J, Chris Seymour, Lisa Hart, and Dave Rice who frequently play at Open Mic.
Vino Di Sedona Fine Wine and Craft Beer, is a Wine and Beer Bar, and Wine Shop, with nightly entertainment. Located at 2575 W SR 89A in West Sedona. For more information or to see the full calendar of events, visit www.VinoDiSedona.com. 928-554-4682