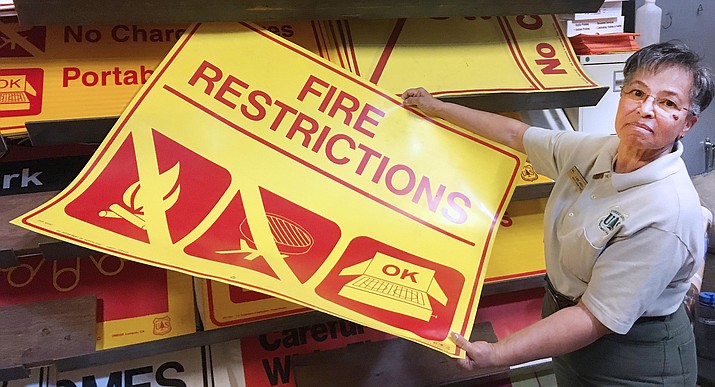 Originally Published: April 17, 2018 12:13 p.m.
COTTONWOOD – Strong winds, low humidity and drought: fires in the southwest desert now have the potential to spread swiftly, according to the U.S. National Weather Service.
Friday, the City of Cottonwood announced it is cooperating with the Prescott National Forest and Yavapai County in implementing fire restrictions effective Friday, April 20 at 8 a.m.
The restrictions prohibit all open fires, fire pits, campfires, fireworks, and any outdoor use of equipment that generates sparks or flames, such as welding equipment and chainsaws, according to the press release. No further burn permits will be issued and existing permits will be suspended. Those seeking an exception must contact their local fire marshal.
Propane grills are still allowed, while charcoal grills are prohibited in public but will be allowed at private residences so long as they are covered. Cottonwood Fire Marshal Rick Contreras recommends keeping a water source nearby.
Contreras said the dry conditions and lack of moisture this year combined with the high winds are prime fire conditions.
"It's just the perfect formula," Contreras said.
Implementing fire restrictions in April is not uncommon, but May is usually the typical month, according to Contreras.
"There was not a lot of rain and weed growth this year, but there's still a lot of brush from the year before.  We want to remind people of these restrictions and to also have safety in mind for getting rid of weeds," Contreras said.
The Cottonwood Fire Department will begin red tagging in neighborhoods this week notifying residents to clean up brush in their yards.
Sedona Fire District will also be implementing fire restrictions concurrently with Cottonwood Fire. Almost the entirety of Yavapai County is within boundaries of critical to extremely critical fire weather, according to the NWS.
Contreras recommends that those with questions relating to fire restrictions contact their local jurisdiction.
"We're here to help," Contreras said.
Local fire districts recommend the following fire restriction safety tips:
•         Propane grills are preferred over charcoal grills during high fire danger periods.
•         Charcoal grills shall have a functioning lid.
•         Locate your grill at least 10 feet from combustibles (home, wood piles, vegetation, etc.)
•         Keep a garden hose readily available nearby.
•         A competent, unimpaired adult should be in attendance until the fire is DEAD OUT.
•         Charcoal should be placed in a metal container and soaked with water after use to ensure complete extinguishment.
•         The Fire Department may establish additional requirements, up to and including the extinguishment of any fire, on a case-by-case basis to ensure the public health, safety and welfare of the City of Cottonwood.
More like this story