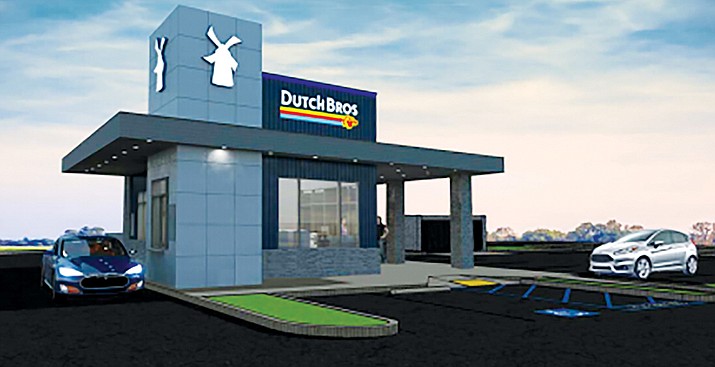 Originally Published: April 19, 2018 1:09 p.m.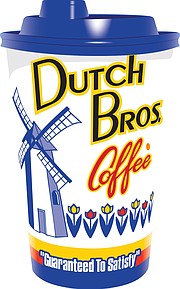 COTTONWOOD -- Residents of Cottonwood may have more options for their early-morning coffee fix in the near future with the addition of a Dutch Bros. Coffee in the Food City Shopping Center along State Route 89A.
The coffee chain has more than 200 locations across the Western United States with one location in Flagstaff and one in Prescott Valley, according their website.
The proposed drive-thru coffee shop would replace the smaller kiosk, Barista Bar & Bagels, which has since been removed from the location. SimonCRE Cabin, LLC is under contract to purchase and split off the out parcel from Verde Valley Plaza, LLC.
The new owners are looking to cut out a portion of the current property and build a roughly 860-square-foot building. The parcel is planned to have 29 parking spaces as well as an outdoor patio.
"All patrons will utilize a drive-thru or walk-up window to order and receive their products," according to staff memo documents. "A shaded 686-square-foot patio area will be provided for those who wish to remain on site for consumption."
The business would be accessed via two existing driveways.
In a letter to the city, Dan Biswas, Vice President of Development at SimonCRE stated the drive-thru could accommodate up to 18 cars.
…"the drive-thru begins and ends with circulation within the site and will not hinder traffic flow at the existing points of ingress/egress. In addition, proposed site plan provides for accessibility from surrounding shopping center," Biswas stated in the letter.
But members of the Cottonwood Planning and Zoning Commission raised concerns over the proposed design of building on Monday.
Commissioner Rob Hart said he is worried about a proposed sidewalk planned in front the drive-thru.
"How are they going to deal with people who have just made a purchase and are getting ready to accelerate away from the window?"
He also said he is concerned about merging issues with the two-lane drive-thru.
"Is there a system in place? Or an honor system? I've seen places that have that system and it was a disaster," he said.
Another issue brought up by the commission was the patio.
"If you're going with a patio, I'd suggest more shade," Hart said. "If you want people to congregate, you're going to need to give them someplace with protection from the sun."
 Commissioner Judd Wadsen said not paying attention to the patio would be a "missed opportunity."
"In this community, with your patio, I think you're missing an opportunity to do something larger and more unique that would bring people in instead of what you're using with your concept," he said.  
Wadsen also raised concerns over inaccurate renderings proposed to the city.
"In my opinion, it seems like you're retrofitting an existing concept you put in a lot of places," he said. "I would recommend whoever put this together to go back through this.
Vice Chairman Robert Williams said that although the concept of a Dutch Bros would be exciting for Cottonwood, he's concerned over a "cookie cutter" concept being put in the space.
"Coming from Maricopa County where I've seen quite a few of these Dutch Bros, I know that the business is going to kick up immensely and I know this is going to kick up the level of use for that corner," he said. I think it needs to be planned and it needs to be planned well. As of right now, it's not as planned as it should be."
The commission recommended the applicant to go back and look at their proposed designs. They plan to address the proposal again at the next Planning & Zoning Meeting on Monday, May 7.
--Follow Kelcie Grega on Twitter @KelcieGrega
More like this story