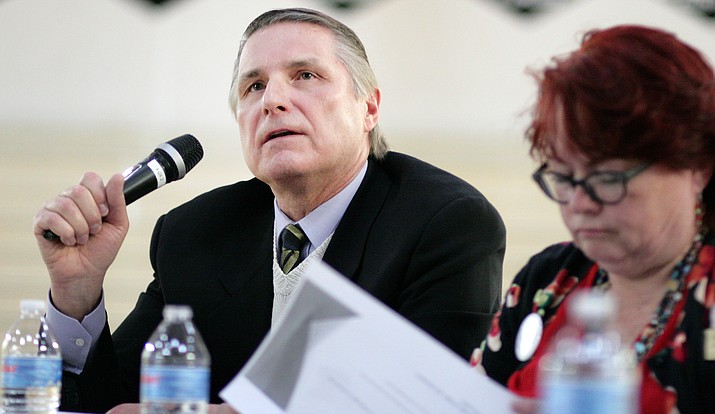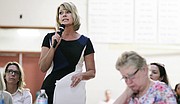 SEDONA – Still two weeks away from a decision on the fate of its two elementary schools, members of the Sedona-Oak Creek School Board debated how an expected $1.4 million loss of revenue could be turned into a positive.
Though positives are few and far between when the district is losing money due to declining enrollment, the school board spent Thursday evening in the Sedona Red Rock gymnasium as it reviewed three possible models for balancing its projected fiscal year 2018-2019 budget.
The first option – model A – involves keeping both West Sedona and Big Park schools open, but people lose their jobs.
The other two options – models B and C – include the elimination of one elementary school – meaning one school closes and those students then attend the other school.
No community wants to see its schools close, said Debbie Jones, principal at Big Park Community School.
"Students deserve a community school, rather than being bused for an hour-and-a-half each way (with all of the stops required) through Sedona traffic," Jones said. "[Parents] are looking at schools that are closer to drive to, rather than putting youngsters on a bus for three hours each day."
But the issue that districts such as Sedona-Oak Creek must consider, Jones also said, is not just a declining enrollment Verde Valley-wide, but the "lack of state funding for schools."
"It is difficult to sustain schools in this environment," she said. "We have families moving from Sedona due to the cost of living and lack of affordable housing."
Save the building? Save the teachers?
As director of communication at the district, Jennifer Chilton was one of about 200 people in attendance at Thursday evening's meeting. Chilton said that she saw the public's input to be "insightful, cogent, eloquent, and student-centered."
Chilton also said that Sedona-Oak Creek is "grateful for the community's ongoing support of children, teachers, and schools."
"Community members expressed valid points relative to each of the proposed budget models," she said. "The board will thoughtfully consider all of the many factors."

In a possible matter of oversimplification, School Board Member Zach Richardson said that he considers Model A the "save the building model."
Models B and C, Richardson called the "save the teachers models."
Not using the exact words 'we need to close one of these schools,' Richardson told the crowd that "44 percent of the teachers at [Sedona Red Rock] High School already have other jobs for next year."
Discussing finances for the upcoming school year, District Finance Director Heather Shaw-Burton talked of moving the certified, classified and administrative staff one step up – meaning one pay grade – for 2018-2019.
'Number-one priority'
Following Shaw-Burton's presentation, Deana DeWitt, the district's director of curriculum and instruction, showed what the district would look like with each of the three models.
"Students are always our number-one priority," DeWitt said following her presentation.
To create the presentation, DeWitt worked with the district's school principals and the directors/coordinators of special programs such as Special Education, ELL, Title 1, and Gifted & Talented from both West Sedona School and Big Park Community School
DeWitt said that the intent of the presentation "is to provide information to the Board so that they may make a better-informed decision about the district model moving forward."
The presentation, DeWitt said, was not a formal recommendation.

On the district website, http://www.sedonak12.org, Sedona-Oak Creek has posted DeWitt's presentation and Shaw-Burton's presentation "Balancing the Budget with Declining Enrollment and Increasing Expenses."
On May 1, the Sedona-Oak Creek School Board will hold the last of its three public meetings to solicit feedback on the three proposed district models for 2018-2019.
Whether or not the district is forced to close one of its schools, School Board Member Heather Hermen said that the board's "first and greatest concern must be the educational welfare of the students attending the public schools."
"What we are facing is a community-wide issue and not one I enter into with the mindset that only one solution exists," Hermen said. "This situation is an emotional one, a sensitive one, and I assure you I spend hours, days and months considering all avenues, all areas where cost savings can be considered and what challenges exist."
-- Follow Bill Helm on Twitter @BillHelm42